Manga Review: Case Closed Volume 56 by Gosho Aoyama
Quick recap for newer readers:  Shinichi Kudou ("Jimmy" in the US version) is a teen genius detective.  He runs afoul of a mysterious criminal organization, but their assassination attempt instead causes him to shrink to a childlike appearance.  To conceal his survival from the organization, Shinichi poses as Conan Edogawa, ward of inept private detective Kogoro Mouri (Richard Moore) and his teenage daughter Ran (Rachel) who happens to be Shinichi's love interest.  Conan continues to solve crimes, though it's harder to get people to listen to a small kid.  See my previous review for more.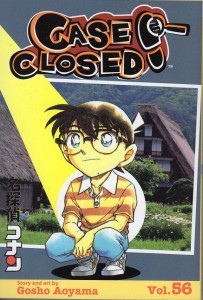 The volume to hand is #56.  The first story is "Engagement Ring?!" which guest stars Detectives Sato and Takagi, and their slow-moving romance subplot.  Sato is suddenly wearing a gold ring on her left hand's ring finger, and Takagi wasn't the one who gave it to her.  The crime this time is the suicide (or is it?) of a mystery writer that Kogoro was supposed to participate in an interview with.  That writer also had a ring that turns out to be an important clue.  The case is also complicated in that Sato is one of the few police officers who's noticed that "Sleeping Mouri" doesn't move his lips when he gives the real solution, so Conan must figure out other ways to lead the police to the answer.
Next up is "The Witch Legend Mystery" which is loosely based on the story of a lost traveler who seeks shelter with a kindly old woman overnight.  He wakes up in the middle of the night due to an odd sound, peeks into the next room, and sees that the woman is actually an onibaba (anthropophagous demon granny) who is sharpening a knife in preparation for butchering him.
In this case, both the Detective Kids with Doctor Agasa, and two "hosts" and their client separately find themselves stranded near a mountain hut, and reluctantly taken in by the scary-looking old woman who lives there.  (A "host" is a handsome man who entertains women at a nightclub, getting them to buy drinks and expensive trinkets for them.)  The client winds up dead from a slit throat.  Was it the old woman, who one of the children saw sharpening a knife in the dead of night, or someone else?
The remainder of the volume is a series of connected stories that deal with the Eisuke Hondo subplot.  This mysterious youth is clumsy, but perceptive, and seems to be connected to the supposed missing (actually comatose) Rena Mizunashi, newscaster and associate of the Black Organization.   Conan's Osakan counterpart Heiji Hattori (Harley) has discovered someone who may have know Eisuke's father; also there's only one known photograph of the man.  But when Conan, Doctor Agasa, and Ai (English name Anita, another survivor of childification) go to check that photo–it's missing!
That problem resolved, Conan has some new clues.  Then Ran suggests visiting a friend of the Mouri family who is a huge Rena fan, to see if Eisuke really is her brother, as the photographs would suggest.  Conan and Sonoko (Serena) tag along, and Conan solves a bank transfer scam case on the way.  But news footage of Rena only confuses the issue–she apparently can't be Eisuke's sister, and the boy's motives are still murky.
It's nice to get some plot movement, so this is one of the volumes to pick up if you're most interested in the "myth arc.'  Otherwise, it's got a couple of decent mysteries that are typical for the series.