Manga Review: Weekly Shonen Jump (2015) by various creators.
It's the third anniversary of this blog, and as is my custom, I'll be looking at the current lineup of Weekly Shonen Jump, the online version of Shounen Jump.  For those just joining us, Shounen Jump is the top-selling shounen manga (boys' comic book) in Japan.  Many of its series get anime (animated cartoon) adaptations, and its ethos of "friendship, struggle and victory" has been highly influential in manga circles.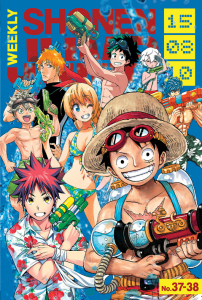 The struggle is exemplified in the magazine itself by the reader polling system.  Each issue comes with a survey to mail in, and the placement of further chapters within the magazine is based on how well they do in the polls.  Popular series get prime spots near the front, while struggling series get moved to the back.  Series that do poorly for an extended period tend to get axed–if this happens right away, it's called "ten-weeked" for the minimum time a series will be kept.  (There are a couple of exceptions to the polling system that are more or less immune to being cancelled as their collected volume sales are very high, even though the weekly readers rate them poorly.)
Not all of the series in the print edition make it into the online edition, which also adds some monthly features from other magazines also owned by the same publisher.  Let's start with the weeklies.
One Piece:  On a world that is 90% ocean, a boy named Luffy decides to become the Pirate King.  He gathers a wacky crew as he sails around the world looking for the mysterious "One Piece" treasure of the previous Pirate King.  Currently, the situation in Spanish-flavored Dressrosa has been resolved, and the crew is looking for their vanished members on the "island" (actually a massive elephant) Zou, home to a tribe of animal-people called Minks.
World Trigger:  Earth is periodically invaded by beings from a parallel universe called "Neighbors."   The agents of BORDER are our primary defense against them.   Currently, our viewpoint agents are engaged in a tournament called "Rank Wars" to try to qualify for an away mission to rescue kidnapped Earthlings from the Neighbor dimension.  This is about to be complicated as a Neighbor strike force has arrived with the intention of crippling BORDER's ability to launch away missions.  The artist has been having health issues, so the feature takes frequent breaks.
Bleach:  Teenager Ichigo Kurosaki has the ability to see spirits, and has since been inducted into the Soul Society, which attempts to stop evil spirits and conduct good ones to the afterlife.   This is still on what is supposed to be the final arc, as the previously-thought-dead Quincies invade the Soul Society to destroy the afterlife as we know it and presumably replace it with one where they're in charge.  It looks like the creator is going to milk every last member of the huge cast for extensive flashbacks–we may be at this for another three years.
My Hero Academia:  Izuku Midoriya (aka "Deku") was born without superpowers on an alternate Earth where 80% of the population has "Quirks."  But he has the heart of a hero, and has earned a special power, so can attend a magnet school for aspiring superheroes.  Currently, Deku's class is on a summer field trip for intensive training.  (I've reviewed a couple of the individual volumes.)
Nisekoi:  Raku and Chitoge, the scions of feuding crime families, are forced into a fake dating relationship (the "false love" of the title) to stop the feud.  They start developing genuine feelings for each other, but things are complicated by there being several girls who have a thing for Raku, at least one of whom he also has feelings for.   The series just concluded a story arc that eliminated one of the "harem" from consideration; this did very poorly in the polls, perhaps because it centered around her frankly annoying personality and equally annoying family.   Now Raku is down to two viable choices and desperately trying to avoid making up his mind.
Toriko:  A far-future Earth has become a world where the more dangerous a creature is, the more delicious it is (usually), and Toriko is one of the top Gourmet Hunters, dedicated to seeking out new flavors and foods.  Over time, the series has come to focus more on his sidekick, aspiring chef Komatsu.  This may be in its final story arc, as the Earth is "ripe" and about to be eaten by a cosmic being, unless our heroes find an alternative.  But there is so much going on with different parts of the cast that it may take several real-time years to resolve.
Black Clover:  In a fantasy world where everyone can use at least some magic, Asta was born without any.  He's trained his body extensively to make up for this, and has "never giving up" as his primary personality trait.  At his society's coming of age ceremony, he initally does not get a grimoire of spells, but then is gifted with one that turns into a sword with the power of anti-magic.  He joins the Magic Knights that protect his kingdom, but only in the Black Bulls, a ragtag group of misfits who are looked down upon by the more professional units.  This series is new this year, and is considered something of a successor to Naruto.  Currently, Asta is helping a mirror mage and a fire-powered nun fight kidnappers who steal the magic from children.
Food Wars!:  Known as "Shokugeki no Souma" in Japan, this series features Souma, a young maverick aspiring chef as he attends the top culinary institute in Japan and engages in cooking battles.  The early chapters were heavy on the cheesecake imagery, but the series has backed off on that some to concentrate on the food porn.  Currently, the school has been taken over by a sinister man who wants to make all cooking conform to his idea of perfection without regard for individual tastes, and Souma is in a cooking contest with one of that man's minions (who has already bought the judges, so we have no idea how he's going to win.)
On to monthly features.
Blue Exorcist:  Rin Okumura discovers  that he is the son of Satan, destined to bring about his father's final triumph.  Rin decides to defy his heritage and joins a school for exorcists that battle the forces of evil.   Currently, Rin and his human (or is he?) fraternal twin Yukio have been sent on a mission to locate a missing exorcist.  They spend much of this month's chapter being mistaken for a gay couple, much to Yukio's annoyance.  (Rin seems to think it's kind of funny.)
Seraph of the End:  In the not too distant future, a plague seemingly wipes out all adults, and many of the surviving children are enslaved underground by vampires.  Yuichiro Hyakuya, one of these slaves, escapes to the surface, at the cost of losing his friend Mikaela Hyakuya (they were named after the orphanage they were brought up in before the plague.)  Yu joins the Demon Army, humanity's last defense against the vampire menace…or are they the real enemy?  Currently, Yu has been reunited with Mikaela, who has become a vampire.  Meanwhile, the Demon Army's mission seems to have gone south, or possibly that was always the plan, as the top brass start sacrificing their own troops to summon the Seraph of the End, and Captain Guren appears to have gone insane and it's not clear what side if any he's on now.
One-Punch Man:  Saitama trained really hard to become a superhero that could take out any opponent with one punch.  He achieved that goal, but found it hollow as fights no longer hold any joy for him.  This parody of superheroes turns out to have some deeper themes about what it really means to be a hero.  Currently, the main plot seems to be about Garo, who hates stories where the hero always wins, and is working to become a villain who can defeat any hero.  (See my review of the first volume.)
Yu-Gi-Oh Arc-V:  yet another spin-off of the toyetic Yu-Gi-Oh series, centered around a children's card game that is the most important thing in the world.  Yuzu Hiragi is the heiress to a card dueling school that's seen better days, and is trying to snag a celebrity duelist as a teacher.  She'd like to snag the mysterious Phantom, who's been engaging in illegal card games, but may have to settle for another person with a very similar appearance.  Currently, it appears that Yuzu's father has been kidnapped to lure the Phantom into a duel.
The online edition also features a "Jump Back" slot, reprinting the first few chapters of an earlier series to advertise the back volumes.  Currently it's running Yu Yu Hakusho.  Junior high delinquent Yuusuke Urameshi is dead on the first page, having senselessly sacrificed his life to save a child that wasn't actually in danger.  But because of his anomalous circumstances, Yuusuke can undergo a test to see if he is worthy of returning to life.  (Yes, but the experience leaves him with supernatural powers he must use to protect humanity.)
This is still a huge bargain for anyone who likes shounen manga, even if not all the series are that good, and lives in a country with legal access.  Recommended.