Manga Review: Let's Dance a Waltz by Natsumi Ando
Tango Minami's mother runs a ballroom dance school, where he helps out as a dance instructor (he's tall for a junior high student.)  But due to a disastrous mistake in his childhood, Tango has decided never to take another full-time partner, and thus not qualify for ballrooom competitions.  Besides, these days he's much more into hip-hop dancing, which he can perform solo and skill at which makes him popular at school.  Indeed, he hides his ballroom dancing from his schoolmates to avoid being seen as dorky.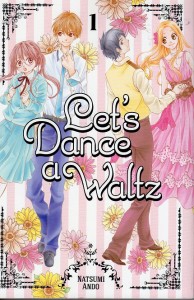 Himé Makimura is a shy, withdrawn girl.  Despite her name meaning "princess", Himé is plain, clumsy and rather pudgy.  Most of her classmates don't notice her except to be mean, as when a boy notices her looking at him and delivers an excessively strident speech about how he could never be attracted to her.  It surprises our young woman when Ms. Minami spots that under her chubbiness, Himé has the right muscle and skeletal structure to be good at ballroom dancing.
Himé turns out to like dancing very much, especially with her instructor Tango–and everyone around can see that they're excellent partners.  Except Tango.  While he notes that he finds her unattractive, that's not the point for him.  He does not want a partner, especially one that goes to the same school as him and could expose his secret ballroom life.  Himé, meanwhile, is falling in love with Tango.
This is a shoujo (girls') romance manga aimed at the junior high market, so the emphasis is on innocent emotions.  Tango is less meaning to be cruel, and more selfishly immature, and bad at asking for guidance.   His mother seems overbearing, but might be more supportive of his choices if he explained himself better.  There's almost no dubious content aside from some fat-shaming by Himé's classmates.
The creator spent time taking ballroom lessons herself to give some authenticity to the poses and training–she mentions that her instructor originally got into dancing to improve his posture.
Contrasting our main pair are the stars of the Minami school, Yuusei and Sumiré.  They're excellent dancing partners, and good friends, but not a romantic couple.  Indeed, there are hints that Sumiré has feelings for Tango that she's never acted on.  She's a good sport, though, and is a consistent help to Himé on dance matters.  Yuusei is a serious sort and wants to be a rival to Tango on the dance floor–he's the most set against Tango's refusal to do competitive ballroom.
Late in the volume, Himé gets a makeover; the intensive exercise of dance practice has turned some of her fat to toned muscle, and extensive dolling up with Sumiré's help for a competition has made our heroine look unrecognizably pretty.   (Presumably, she will still be dowdy at school.)  Tango may change his mind yet!  I know some of my readers are not keen on makeover sequences, but they are common to this sort of plotline.
There are translation notes in the back; perhaps the most important is that while "Tango" isn't a common boy's name in Japan, it's a plausible one that wouldn't be as much of a giveaway as it is in English.
This is a sweet story that should do well with its target audience; boys who are brave enough to get past all the pink on the cover would also enjoy it.