Book Review: Dark Waters by Michael Merriam
Disclaimer:  My copy is an uncorrected proof; there may be changes in the final product (I am hoping for many less spellchecker typos.)
Many years ago, Richard Martz ran afoul of the law forbidding children who have both mage and fey blood from being born.  His lover and her unborn child were executed in an overreaction by the local magical community, and he overreacted in turn, wiping them all out.  Now he is cursed, his magic crippled and longing for death, but unable to die.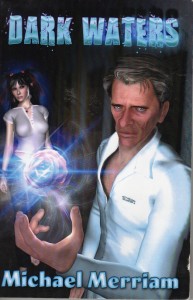 Richard's buried himself in an electronics repair job in Minneapolis.  His employer died recently, and Richard is surprised when that man's daughter, Holly Ellefson, turns up in his apartment that night.  It turns out that she herself is a mage/fey combination, her powers and heritage hidden by her mother's spell…which was tied to her father's life.  Now that Holly has no blood relatives, her disguise is fading, and her powers emerging.  She need magical training, and protection from those who would murder her to keep the law.
Richard accepts, but his price is that if he saves her life, Holly must take his.
"Urban fantasy" is a subgenre of fantasy that is generally set in something like the modern day, in real world places (usually cities) and has a theme of magic co-existing with technology and mundane life.  Often, the magical world is hidden from  normal people (see for example the Harry Potter series.)  In this case, the story takes place a century or so in the future, after the magical community suffered a disaster that exposed it to the normal humans.
To protect themselves, the magical community provides magical technology that does not rely on the now nearly exhausted fossil fuels.  Only the wealthy can fully afford this, so much of the rest of society is reverting to earlier technology.  General Mills and the Basilica still stand, but Nicollet Island and the Sculpture Garden are ruins.  There's a magical Council that polices their own community, and has considerable influence over the normal human government.
This book was sparked by a random premise generator, and that origin peeks through the cracks from time to time.  As the cover suggests, it follows the standard Hollywood formula of middle-aged looking male lead, twenty-something looking female lead; though he's over a hundred years old, and she's in her forties chronologically.  (Also, the cover is early in the story–Holly is less conventionally attractive by the end.)  There's also something of the Manic Pixie Dream Girl trope, as the free-spirited Holly helps Richard overcome his deep man-pain.
The Mississippi River plays a fairly large part in the setting of the story, and provides the title.
Content advisory:  There's several gruesome deaths, a couple of which are basically shrugged off by the end (they're only non-magical humans after all.)  Late in the book, there's a on-screen sex scene.
It's an okay book, but mostly of local interest.  The setting could use more thought, and a less formula plot.
Note:  I have reviewed another book titled Dark Waters; there is no resemblance or connection beyond the title.