Anime Review: The Kindaichi Case Files Return
Hajime Kindaichi is a high school junior who has a reputation for laziness and poor grades.  His childhood friend Miyuki Nanase alternates between being sweet on him and irritated by his antics.  What makes Kindaichi different from most teenage underachievers is that he's the grandson of famous detective Kosuke Kindaichi, and learned mystery-solving at his grandfather's knee.  Since the first time the lad got mixed up in a murder investigation, he's been constantly stumbling into complex cases that baffle the police.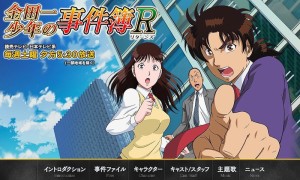 The Kindaichi Case Files manga originally ran from 1994-2001 and was enormously popular.  A second series began in 2004.  The earlier series was brought to America by Tokyopop, but with that company's collapse, the volumes are out of print.  The series takes off from the written adventures of Kosuke Kindaichi by Seishi Yokomizo written from 1946-1980 (sadly only one volume, The Inugami Clan, has been published in English.)  The creator of the manga appears to have been under the impression that the earlier stories were in the public domain, and there were some legal issues when it turned out they weren't at that time.
A new anime adaptation began in 2014 and is currently running a second season.  I watched the first season on the Crunchyroll website.
The stories are pretty formulaic; Hajime and Miyuki go somewhere or get invited to an event.  A gruesome and baffling murder takes place, often seeming to relate to a legend or monster (or the murderer takes on a cool nickname.)  Several more murders take place, but young Kindaichi, along with gruff police Inspector Kenmochi and smug Superintendent Akechi, spots the killer's tricks.  Everyone is gathered together for a summation, as Kindaichi exposes how the murders were done, and then the murderer explains their motives.
In almost every case, the murderer's motive turns out to be at least somewhat sympathetic, some of them being tearjerkers.  There are times when their motives are mistaken.  And then there's the Puppeteer from Hell, the series' recurring villain.  In his first appearance, he had the standard sympathetic motive, but at the end, he turned out to really enjoy coming up with elaborate murder puzzles.  Now the Puppeteer finds people who've been wronged, and manipulates them into using his plans.
There are a few episodes in the first season that break from the formula; one has recurring starlet Reika trying to get some time alone with Hajime, only to snare a murderer as well with her rigged contest.  Two others are flashbacks to when Hajime and Miyuki were in junior high–these episodes are high in the male-oriented fanservice, which I found off-putting.
While the individual stories (usually taking three or four episodes) are interesting puzzles with some comic relief, the formula makes them feel too similar to each other, and I recommend taking a break between arcs.  The continuing characters never grow or change beyond their second appearance, as the series is frozen in that junior year, so the romance never goes anywhere.  (And some of the stories require the characters to forget contradictory events in previous tales.)
For lovers of locked-room mysteries and teen detectives.