Movie Review: Tokyo Gore School
Fujiwara leads a double life.  He's the leader of a gang of high school bullies, and also the teacher-trusted student president.  He's reasonably comfortable with this, having a binary view of life.  There are winners and losers, and he's determined to be a winner.   Fujiwara is baffled, however, when he's suddenly being chased on the street by complete strangers.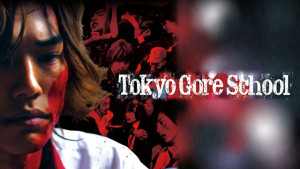 It turns out that Fujiwara is listed as one of the participants of something called the "Chain Game."  Your data is listed on a cell phone-accessible website, allowing people to track you down.  If you capture the other person's phone, you learn their darkest secret, and gain points that can be used to erase parts of your data, making it harder to track you.  If you lose, then your secret is out.  A lot of the involuntary participants default to violence as a means of getting cell phones, thus the "gore" in the title.
While some of the secrets are just embarrassing, like having your mom sew your name into your underwear, others are much more dangerous, and Fujiwara will find himself doing anything he must to avoid his secret getting out.  Oh, and the vaguely described "School Justice Bill" the government just passed may have something to do with all this.
This is a 2009 Japanese movie, currently available on the Crunchyroll website.  It's an "R" for gory violence (which takes a while to get there–the first few fights are relatively bloodless.)  Also on the content front are suicide, rape (off-screen), torture and some rough language.
As you might guess from the plot description, Fujiwara is more protagonist than hero.  He does defend a young woman, but its for his own purposes. He's invited to join a large group that's using numbers to protect itself, but declines.  While he's correct about the deficiencies of the strategy, his refusal is what causes that group to fracture.
Fujiwara's antagonist for most of the movie, though it takes him a while to figure it out, is his ambitious lieutenant Todoroki, who enjoys violence for its own sake; the other bullies are stupid and easily led.
The movie has some nasty twists towards the end, and its philosophy becomes nihilistic in the negative sense.  There's some nifty fight sequences, and the gore doesn't get too overdone.
If teenagers fighting to the death as part of a game is your thing, this isn't nearly as good as Battle Royale or Hunger Games but is enjoyable on its own terms.