Anime Review: Young Black Jack
Black Jack was a manga series by Osamu Tezuka, about a renegade doctor who performs miraculous feats of medicine, but demands outrageous fees.  (Unless he decides to do it for free or a token.)  As Dr. Tezuka was an actual M.D. before he chucked it to become a full-time artist, the series was remarkably realistic in its depiction of anatomy and medical techniques–except when he made stuff up for dramatic purposes.   It explored themes of life and death, and medical ethics.  It's had several animated adaptations.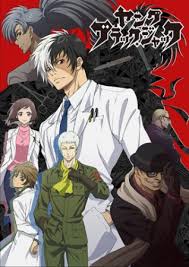 Fairly recently, there was an authorized prequel made, Young Black Jack, set in the 1960s when Hazama Kurou (his birth name) was still an idealistic medical student.  The anime version is currently streaming on the Crunchyroll website.
The 1960s setting allows the show to bring in social topics that were relevant then.  There are plots dealing with student riots, the Vietnam War, the Civil Rights movement in the United States, and corruption in the medical establishment (this last a recurring issue in the original Black Jack series.)  Time and again, Hazama exceeds his authority to perform medical miracles; sometimes voluntarily, sometimes not so much so.
This series is notable for bringing in bits from other Tezuka works, such as the nerve gas MW, which was central to the MW manga.  Most striking of these transplants is Dr. Hyakki.  In the Tezuka manga Dororo, Hyakkimaru was a swordsman whose body parts had been taken by demons, and replaced by artificial parts with hidden weapons.  As he defeated the demons, he got his original body parts back, becoming more "human."  In this series, Dr. Hyakki is a surgeon whose limbs were lost in a car accident, and must rely on prostheses.  He begins his own battle with "demons" once he learns that it wasn't an accident.
There's some period racism and sexism, more sensitive viewers might find the depictions of wounds and disease distressing.  Others might disagree with the political viewpoint of the Vietnam War episodes.
The acting is good, and there are some lovely sequences.  (The surgeries themselves tend to be abstracted.)  Recommended to fans of medical drama shows and Tezuka fans.