Manga Review: So Cute It Hurts!! Volume 3 by Go Ikeyamada
Quick recap:  Megumu and Mitsuru Kobayashi are fraternal twins who have been dressing as each other at their schools as part of a wacky scheme to bring up Mitsuru's history grades.  Each of them has fallen in love while in disguise as the opposite sex.  Hilarity ensues.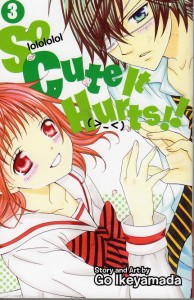 This volume picks up moments after Aoi, the eyepatched hunk Megumu has a crush on, got visual confirmation that she's actually a girl.  (She's put on a towel in the intervening seconds, preserving the "Teen" rating.)  After some relationship fumbles caused by neither party having been in a romantic relationship before, it's established that Aoi still likes Megumu (and is secretly relieved he's not gay) but he still gets panic attacks whenever he gets closer than two feet to a girl.
Meanwhile, Mitsuru's secret has been spilled to school bully Tokugawa (without the necessity of being naked).   She simultaneously hates him and is lusting for his body, and winds up blackmailing Mitsuru into a date in exchange for not revealing the secret to the teachers.  Mitsuru isn't sure how to take this, and he still hasn't gotten around to telling his deaf sweetie Shino who he really is.
This volume appears to be the end of the crossdressing plotline, though I suspect Mitsuru will need to dress up as Megumu again at some point.   Now we're on to more standard complications to teen romance, as Aoi angsts about the dark secret behind his panic attacks, and Tokugawa doesn't understand why Mitsuru is attracted to Shino more than her.  (Hint:  It's because Tokugawa is a bully and Shino is a beautiful cinnamon roll, too good and pure for this sinful Earth.)
The art and characters continue to be adorable, although the sugar level may be way too high for some readers now that the gender-bending shenanigans are over.  I especially liked the scene where Megumu uses her recently learned sign language skills to express her feelings to Aoi when words just weren't cutting it.
Still recommended to shoujo fans.