Book Review: China Dolls by Lisa See
It is 1938, the tail end of the Great Depression, and San Francisco is trying to shake off its blues with a World's Fair on Treasure Island.  They're going to need a lot of employees for that, and the prospect of a job draws Grace Lee all the way from Ohio.  She's from a small town where her parents were the only other people of Chinese ancestry; all these other people who look kind of like her is a bit of a shock.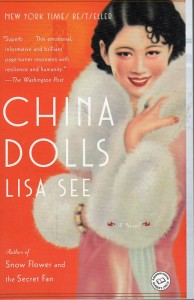 It turns out that the World's Fair can't use a Chinese dancer, but there's a nightclub called the Forbidden City that's hiring, and they only want Chinese.  On her way there, Grace gets some help from Helen Fong, a young woman from a traditionalist family, and when they arrive, they meet Ruby Tom, a vivacious woman who's changed her name because Japanese-Americans have an even tougher time getting good jobs than Chinese-Americans.
The three women try out together, and although only two are chosen at that time, they form a life-long bond.  However, each of them has secrets in their past, and those combine with their ambitions to turn them against each other as well.  World War Two in particular raises the stakes, and their careers and friendship may never recover.
This book is loosely based on real life Asian-American entertainers of the mid-20th Century, and there's an interview with some of those real people at the end of the paperback edition I read.
Grace makes a good viewpoint character for the first part of the novel; her parents were very insistent on her being "American" so she's a complete newcomer to Chinese-American culture and the full array of prejudice faced by Asian-Americans outside of her small town.  The reader learns along with her.  Helen and Ruby also have sections from their viewpoints, but at first are concealing details from the reader as well as their friends–we don't learn some important information about Helen until nearly the end of the book.
Some of the behavior of the protagonists is pretty shabby, and a couple of the betrayals go well beyond what would break most friendships permanently.  Some readers may find it impossible to believe that the characters even speak to each other after what happens.
All three protagonists also have romantic difficulties.  Mistakes are made, and attitudes change over the years.  One of the characters winds up in a relationship that's considerably less than ideal from just about every angle.
As you might have guessed, period racism and sexism play a considerable part in the story, as well as period homophobia.  Grace's backstory involves domestic abuse.  There's some use of period slurs, lampshaded towards the end by a modern-day (1980s) college student asking pointed questions about the attitudes of the past.
I'd recommend this book to people curious about the "chop suey circuit" that Asian-American performers were shunted into during the Twentieth Century–the "Random House Reader's Circle" edition is designed for use by book clubs.