Book Review: The Avenger #8: House of Death | The Hate Master by Kenneth Robeson
Quick recap:  The Avenger, Richard Henry Benson, is a wealthy adventurer who took early retirement to spend time with his wife and daughter.  They were murdered by criminals, and he has sworn vengeance on crimedom, gathering a team of highly skilled people known as "Justice, Inc."  As mentioned in my review of #7, sales on the title weren't doing so well, so editorial ordered some changes that removed the Avenger's weird appearance and retconned his age to be considerably younger, with these changes taking place in Murder on Wheels.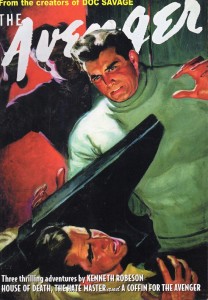 This had a direct effect on the first story in this volume, House of Death.  It had originally been finished by Paul Ernst (writing as Kenneth Robeson) under the title "House of Hate."  But then the editorial decision came down, Murder on Wheels was hastily put in place instead, and this story was stowed away.   Then it was rewritten to change Benson's appearance to the new look, excise his uncanny face-change ability, and put in a line explaining where the new team member Cole Wilson was.  By that time, the next story also had "Hate" in the title, so this story was retitled.
So, what is House of Death about?  It's about an once powerful and wealthy family, the Haygars.  Political changes and bad health have whittled away the family's fortune and numbers, leaving only a handful of cousins from various parts of the world.  They have come to America for a reunion, each bearing a small gold coin to identify themselves.  However, those coins also mark the bearers for death, and at least one of the Haygars is an impostor.
The story has an interesting opening, focusing on Milky Morley, a down on his luck mugger who attacks a man on a lonely street for the "profit" of a wad of bills from a country that doesn't exist any more, and a small gold coin of no known nation.  He is only the first person in the story to die because he's touched one of the coins.
Nellie Gray gets to be particularly useful in this story once the scene switches to an island off the coast of Maine.  She brachiates ala  Tarzan, kills a guard dog with an improvised boar spear, and saves the lives of several of the male members of the team.  And if she gets in trouble in the deadly house of the title, it's because everyone else has had a turn.
The Hate Master, also by Paul Ernst, opens with a scientist disappearing from an isolated laboratory by unknown means.  Then a Scottish terrier is torn to pieces by rabbits.  It's soon clear that the scientist has developed some means of causing animals and people to hate on command, which may be tied to a wealthy politician who's running for president.  (Will Murray's article in this volume claims this was the first appearance of a "hate plague" in the hero pulps.)  There's an unpleasant scene of the political candidate whipping a dog with a copper wire
Both stories happen to have the gigantic Smitty's ankles torn up by small animals, and have sections set in Maine.
After the two main stories, there are two shorts.  "A Coffin for the Avenger" by Emile Tepperman appeared in Clues Detective, and has the Avenger up against a Nazi spy codenamed "the Black Tulip" after the villain's horticultural ambitions.  There's a chilling first bit with a straitjacketed man forced to "drive" a car into a hotel lobby, only one of a series of events the Black Tulip has orchestrated.  The villain boasts that he never overlooks a detail–he's wrong, and it's a short story because the Black Tulip's henchman has failed to notice the neighborhood kids playing games.
"Death Paces the Widow's Walk" by Bruce Elliott stars detective Nick Carter (see the review I did of one of his books) investigating an apparent suicide on Martha's Vineyard.  The suicide note is an obvious forgery, and the most likely suspect, the man with bald nostrils, has vanished.  It's a double "locked room mystery" and Nick cuts the solution very close to his own death.
While not quite up to the earlier stories in the series, these Avenger tales have some great plot twists and exciting action.  Recommended to pulp fans.