Manga Review: Vinland Saga Book Seven by Makoto Yukimura
Quick recap and spoilers for the previous volume:  It is the age of Vikings.  Canute, King of Denmark and (by conquest) England, needs cash to fund his occupation army.  Therefore, he has engineered an incident to force the wealthy Ketil family into outlawry and seize their lands and property.  Meanwhile, on the Ketil farm, slaves Thorfinn, Einar and Arnheid face the consequences of Gardar's rampage–Snake and his men are not happy at all.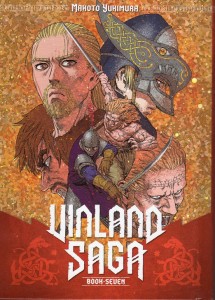 Ketil returns home on Leif's ship, in great emotional distress because of the king's treachery.  He learns of Gardar's attempt to rescue Arnheid (Gardar's wife and Ketil's slave) and reacts by beating Arnheid mercilessly, despite her being pregnant with his child.
Then Canute arrives with his thegns (top warriors) and fearsome Jomsviking mercenaries.  Ketil rallies the farmers who owe him money, but that and his small band of "guests", veteran fighters though they may be are no match for the royal forces.
Thorfinn could just walk away from all of this, none of these people are saints or innocents, and he has no more obligation to them.  But his new commitment to pacifism as a way of life means he has to at least try to resolve the situation peacefully.
This volume of the long-running manga is filled with scenes of violence, often quite gory.  There are extended sequences of beatings that are painful to look at.  Rape does not occur on panel, but is referred to, and one character threatens it in an attempt to force consent.  There are numerous deaths, including important characters.
There are some lighter moments, however.  Canute and Thorfinn's meeting after so many years leads to at least a temporary peace.  And chapter 100, the last of the volume, is primarily comedic as Thorfinn returns to Iceland at long last only to have no one recognize him.  There's some humor derived from the fact that there's another Thorfinn about the same age in the crew, distinguished by being nicknamed "Bug-Eyes."
The legendary scene of King Canute ordering the waves to stop is in here, as the young ruler makes a point about his power compared to God's.
The art and writing continue to be excellent, so if you enjoyed previous volumes, you'll like this one.