Movie Review: Bender's Game
Futurama was a science-fiction cartoon created by Matt Groening (The Simpsons) for the Fox Broadcasting Company.   It starred Philip J. Fry, a New York City pizza delivery worker who is "accidentally" cryogenically frozen for a thousand years.  In the bizarre future world, Fry has trouble fitting in at first, but quickly becomes employed by his distant descendant, eccentric scientist Hubert J. Farnsworth, as a delivery person for one-ship operation Planet Express.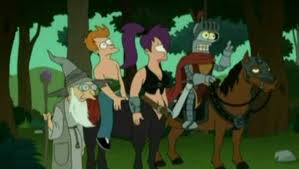 Fry befriends vice-ridden robot Bender and violence-prone cyclops Leela, who join him at the delivery company.  Other employees include fussy bureaucrat Hermes, naive intern Amy, completely incompetent lobster doctor Zoidberg and Scruffy the janitor.  They went on to have many comedic adventures on network TV from 1999 to 2003.
The Fox executives never particularly liked Futurama, despite or perhaps because of its critical acclaim, so the scheduling was erratic at best.  Eventually, it was not so much cancelled as not scheduled for a year.   A couple of years later, Comedy Central picked the show up for syndication, and helped fund four direct to DVD movies in 2008, of which Bender's Game is the third.
In one plotline, Bender learns to play the role-playing game Dungeons & Dragons™ which is a bit difficult for him as he has never really used his imagination before.  He makes a breakthrough, but it turns out that as a robot, his imagination gets the better of him, making him delusional, living in a fantasy world based on the campaign.  Bender is institutionalized.
In the other main plotline, the price of "dark matter" fuel is skyrocketing due to a purported shortage.   Leela's pet Nibbler (actually a superintelligent being) produces dark matter as excrement, which helps.  But evil corporate mogul Mom owns the only dark matter mine and her monopoly allows her to set any price she wants.  Professor Farnsworth reveals that he has a method to break Mom's monopoly, but it can only be done inside the mine itself.
The two plotlines combine when dark matter inside Bender is stimulated by…events…and his imagination transforms the world into his fantasy adventure.  The situation in that world is a twisted mirror of the previous events, and the transformed Planet Express crew must fulfill their quest lest the universe fall to darkness!  Oh, and there's a surprise revelation about one of the minor characters.
It's obvious the writers and voice actors had a ball making this, with all the D&D references and other pop-culture bits (Ender's Game is not referenced beyond the title.)   While it will help to have seen some episodes of the series before, the loose continuity of Futurama should allow most viewers to catch on quickly.  Past events that are important are referenced in the movie itself.
The movie is designed to split into four episodes for showing in syndication, and it's pretty obvious where the transitions are supposed to take place.
If you are new to the series, you should be aware that cartoon nudity crops up every so often, and all the characters will turn into jerks whenever it's convenient for a joke.  (Bender is almost always a jerk.)  One thing I wasn't too keen on is that this movie leans heavily on potty humor, well beyond what is called for by the plot.
After the movies, there was another season of regular episodes, but then the show was canceled again so it may not be coming back.
Recommended for anyone who's ever played Dungeons & Dragons™.