Manga Review: Rin-Ne Volume 18 by Rumiko Takahashi
Recap:  Rinne Rokudo is a shinigami ("death spirit") a psychopomp who helps ghosts and spirits move on to the afterlife.  Because he's part human, his powers are relatively weak, and he must rely on often expensive gadgets to do his job.  That, and debts his deadbeat dad Sabato saddled him with, means that Rinne lives in poverty.  He's assisted by his black cat spirit servant Rokumon, and Sakura Mamiya, a girl who can see spirits but is otherwise normal.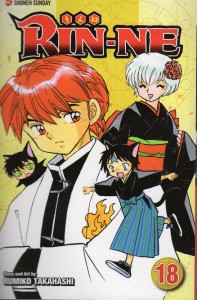 As often happens with Takahashi works, the cast has grown quite large, and the volume opens with several of the black cat servants participating in a mushroom hunt.  Rokumon, with his "get rich quick" mentality, decides to take on the most lucrative (and dangerous) mushrooms in the forest.  Hilarity ensues.
The stories this time are set in winter, and a two-parter concerns a year-end bonus envelope to also poverty-stricken Renge Shima from Sabato, the president of the  damashigami (trickster spirits who try to take human souls early) company she's been reduced to working for.  Unfortunately, it seems that Sabato got the contents of the envelope by robbing the Life Span Administrative Bureau, and Renge doesn't want Kain, the handsome LSAB agent, to know she's working for the bad guys.  Hilarity ensues.
Another two-parter features Tamako, Rinne's grandmother (also a shinigami.)  She's invited Rinne and Sakura over to help clean the junk out of some rooms.    In the process, we learn that Rinne was amazingly average as a child, but his father was a delinquent in middle school.  And then they find Kuroboshi (Black Star), Tamako's black cat servant, trapped in one of the closets (for years!)
The second part has Kuroboshi try to retire by passing his job down to his grandson Sansei Kuroboshi (Black Star the Third).  But while getting some training from Rinne, it's learned that Sansei has a crippling fear of ghosts–not a good thing when your job involves hunting ghosts!
There are several other one-shots, and the volume concludes with narrow-minded devil Masato playing a mean trick on Rinne using a box made from the ice of Cocytus (a reference to Dante's Divine Comedy.)  Masato's petty-minded evil means he has made some mistakes that will come back to bite him.
While the individual stories are funny, this volume feels like it's marking time; there's no forward momentum here.  There's quite a bit of slapstick violence.
There's also an animated series of this now, so that might be worth looking up.