Book Review: The Quick and the Dead by Louis L'Amour
When Duncan McKaskel and his wife Susanna decided to move out West with their young son Tom to homestead, they knew there would be dangers and difficulties.  But after their wagon train falls to cholera and the family strikes out on its own, they learn that the pioneer trail has deadlier dangers than anyone ever told them.  In particular, the family runs afoul of a gang of horse thieves.  One of the thieves winds up dead, and the remainder pursue the family.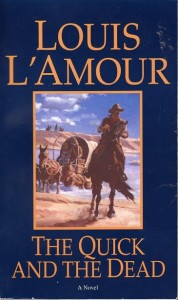 You'd think it was a stroke of good fortune that the McKaskels came across Con Vallian, a drifter with detailed knowledge of the plains, who decides to help them along.  Except that Duncan is unsure of Con's motives…the man seems unduly impressed with Susanna's good looks.  Are they more in danger from their hunters, or from the man inside their camp?
Louis L'Amour (1908-1988) was one of America's most popular writers of Western fiction, with 86 novels to his name.  This volume is considered one of his best, and was made into a movie in  1987.
There's little wasted wordage in this book.  It gallops right along as the long chase continues.  The characterization is sparse; the mystery of Con Vallian's motivation is not entirely cleared up when the viewpoint switches to him.  Does he have a creepy desire to steal Susanna away from Duncan, or is he just unfamiliar with tactful ways of complimenting a woman?  We can't be sure for most of the book.
Most of the horse thief gang is clearer about their motivations, but we don't learn much of their depths.  Some are not as bad as they could be, some just as horrible as advertised, and one ("The Huron") is a mystery whose thought processes are unknown to the rest of the gang.  Their pursuit gives a tension to the story, even when they are not physically present.
Which brings me to the Native Americans.  An Arapaho hunting party make several appearances in the story, as a possible threat or potential allies.  Con says, "Injuns think different than us, but that doesn't say they are wrong…just different."  It's a fair enough assessment for the time period.
The ending may seem a bit off if you were expecting the last man standing to finish the hunt, but it makes sense with the characters as established.
As expected from the title, there is a lot of violent death in the story.  Otherwise it should be suitable for junior high readers on up.  The 2011 paperback edition I read has a short biography of Mr. L'Amour, and some maps that help place the action.
Recommended to fans of classic Westerns.
Here's a trailer for the movie version–be aware that the book has no shower scene.