Book Review: Father of Lies | Mirror Image by John Brunner and Bruce Duncan, respectively.
Belmont Books was a minor publisher of paperback books with a specialty in speculative fiction, which lasted from 1960 to 1971.  Apparently in an effort to mimic the success of Ace Doubles, they produced a series of "Belmont Doubles" that tucked two novellas into one book, but without the reversed printing that made Ace's books distinctive.  This particular volume was printed in 1968.  While the two stories have little in common, the cover blurb does a good job of linking them.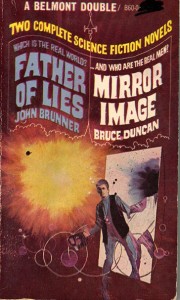 "Father of Lies" is by John Brunner (Stand on Zanzibar) and features a group of seven amateur parapsychologists.  After a failed attempt to find a "Nessie" type creature in another loch, one of them interests the others in investigating a circle of land in England that seems to have dropped off the memory of everyone outside it, to the point that the maps don't match what can be observed of the territory.
The team learns that after a certain point into "the Blank Space" modern technology doesn't work.  The people inside seem to be in a medieval social stasis, and one of the team who happens to have studied older forms of English is told by the locals that there's an ogre about.  When another of the group, Miles, enters from a different direction, he learns that there's also a dragon.  He also sees modern tire treads heading into the territory and decides to investigate–then vanishes!
There's some fascinating Arthurian stuff going on, and a couple of exciting scenes involving the ogre and dragon.  Plus, Miles meets a naked modern woman named Vivien who's about to become a human sacrifice.  The tension is high in places.  The title does come into play, but not as you would normally expect it to.
The characterization is kind of lacking; two of the seven parapsychology team never show up in person or have lines, and most of the rest get one personality trait each.  Miles and Vivien aren't much better off, getting "bookish fellow who finds his inner hero" and "modern independent woman with no identifiable skill set but is very brave."  The villain is also kind of shallow, childishly evil.
The ending is kind of abrupt, with the reveal of what's been going on in a rushed infodump after an important character dies.
"Mirror Image" is by Bruce Duncan, which turns out to be a pen name for Irving A. Greenfield (Only the Dead Speak Russian).  Go-go dancer Trudy Lane drops dead in the street, but when she's autopsied an hour later, the doctor finds that she's been dead over seventy-two hours.  New York police detective Luis Santiago is saddled with this bizarre case, which only gets weirder when another Trudy Lane body shows up cut in half and stuffed in trash cans.
Meanwhile, America's most advanced nuclear submarine, the Triton, sails out on a secret mission.  There's some concern about Petty Officer Second Class Warren Hall, who got a "Dear John" letter just before going on shore leave.  He disappeared for several hours during the night, but they do know he was seen with a go-go dancer named…Trudy Lane.  Hall admits that he spent time with her, but lies about another man he was seen with at the Mermaid Club.  Odd.
The reader is not left in suspense long.  (Imagine that meme with the guy from  the History Channel saying "ALIENS".)  Yes, aliens are invading the Earth and replacing certain people with robots under their command.
The best parts of the story are the bits from the perspective of the Hall robot, which has the parts of Hall's memories the aliens considered essential, but doesn't really grok human behavior.  It's not quite to the level of "Hello, fellow humans." but Hall keeps doing or saying things that set off people's uncanny valley instincts.
The aliens appear to have some form of mind-control ability as well, but this is inconsistently portrayed.  The lead alien's exposition is deadpan enough that it's almost funny.
It's a decent enough story, but again the characterization is lacking, and thus the parts that should be thrilling as the submarine is taken over fall flat.
Mostly I recommend this for the John Brunner completist as the previous published version of "Father of Lies" in  Science Fantasy #52 (April 1962) will be even harder to find.