Book Review: The Casebook of Carnacki the Ghost Finder by William Hope Hodgson
Four men come to the house on Cheyne Walk in Chelsea when the man who owns the house, Thomas Carnacki, summons them for dinner.  They ask no questions, as they know Carnacki will wait until his own good time to tell them a tale of his adventures.  And because he is a ghost finder, that tale will be worth waiting for.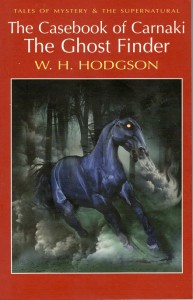 William Hope Hodgson (1877-1918) was a sailor and physical fitness instructor before taking up writing and becoming best known for his weird tales.  The Carnacki stories were written between 1910 and 1914, when Mr. Hodgson enlisted in the British Army during World War One.  Only six of them were published during his lifetime (he died at Ypers) with the remaining three first appearing in the collected edition in 1947.
Carnacki is very much in the Sherlock Holmes tradition of the cerebral detective, examining the evidence with the best scientific methods known to him.  Sometimes the menace turns out to be merely human trickery, sometimes it is truly supernatural, and then again sometimes it's both!  Other than that, the stories are formulaic–the four friends arrive, everyone has dinner, Carnacki tells his tale, there are a few clarifying questions, and then the guests go home.
Carnacki is interesting as a ghost finder, as he's terrified of ghosts and supernatural phenomena, and readily admits it, even as he  confronts these phenomena.  It's suggested in one story that fear makes you more sensitive to the spirit world–someone who knows no terror might not even notice ghosts!  He also uses both eldritch lore and modern science like photography and vacuum tubes to battle the supernatural.
The collection begins with "The Thing Invisible" in which Carnacki investigates a haunted dagger that seems able to strike on its own with deadly force.  This story was also in The Black Lizard Big Book of Locked Room Mysteries.  It ends with "The Hog", a tale of sheer horror as a man's dreams turn out to be a direct conduit to the Outer Monstrosities.  The latter story would be a good source for artists seeking horrific imagery, but becomes overlong with the special effects sequence.
The best story is "The Whistling Room", a story that starts with a seemingly harmless haunting that becomes much more disturbing by the end as we learn just what exactly the whistling is.  The least effective story is "The Find", a change of pace that has no supernatural elements even as a distraction.  A second copy of a supposedly unique book has surfaced and Carnacki must learn if it's genuine.  The case is resolved in a summary to the main suspects, which is summarized for Carnacki's friends.
The writing is a bit old-fashioned and there's a bit of genteel sexism.  We learn little of Carnacki's past, involving him living in a seaside house with his mother as a young man, apparently inspiring his career.  And of the four guests, the only thing we learn is that one of them has studied magical science, apparently in the theoretical model only.
This is a nice little collection of spooky tales, which I would recommend to fans of old-fashioned ghost stories.