Anime Review: Active Raid
The year is 2035 in an alternative history Japan, and the city of Tokyo is rapidly recovering from the Third Quicksand Disaster, which turned much of the metropolitan area into quagmires.  Powered armor units called "Willwear" have helped the reconstruction immensely, and are spreading into other industries, but there are people who use Willwears for crime.  Thus the Metropolitan Police have created the Fifth Special Public Security Section to battle Willwear crime.  The focus of this series is on Unit 8, a collection of oddballs and marginal officers who are assigned to a difficult part of the city and wear special prototype Willwears.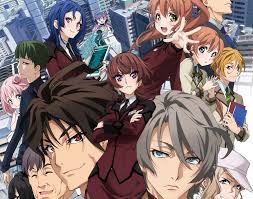 Assistant Inspector Azami Kazari has been assigned to the Eighth to run an assessment on them for Internal Affairs, but being a young idealist, her plan is to whip the oddballs into shape as respectable police officers.  She soon discovers that her strait-laced ideas may be less useful in the field than the more laid-back attitudes of the rest of the team, especially as a series of unusual crimes hits the city.
This recently-concluded 12-episode science fiction anime is available legally on Crunchyroll as of this writing.  It bears some resemblance to Patlabor, a classic series about an oddball collection of future cops who use special weapons to deal with criminals using similar technology.  However, it's crammed into much less time than the earlier series, so the characterization is shallower, and there's no breather episodes that allow the writers to stretch their worldbuilding legs.  Most of the unit get one episode that focuses on them, and in a couple of cases have a single line in any other episode.
The opponents are Logos, which is not so much an organization as three temporarily allied teen hackers whose motivations clash, and who initially act through pawns with seemingly random crimes.  The real problem is Japan's social ills, and ultimately, while combat is important it is understanding that saves the day.
A source of humor in the early going is that despite their destructive reputation, the Eighth actually does follow regulations; they have to get authorization from the government to pursue a criminal, to fire weapons, etc.  And since several different governmental agencies have jurisdiction (at least one of which hates the Eighth) the unit commander spends much time trying to navigate the bureaucracy while incidents are ongoing.  And of course, when the hostile governor finds an excuse to close down the Eighth, he does, playing into the hands of Logos.
A Jim Jones-style mass cult suicide is part of the backstory.  There's also a few fanservice scenes, as the police must strip to underwear to don their Willwears.
This is an enjoyable but disposable series, worth a look if you like powered armor stories with some comedy.