Manga Review: So Cute It Hurts!! Volume 4 by Go Ikeyamada
Quick recap:  Meguru and Mitsuru Kobayashi are fraternal twins who look a lot alike.  Due to a zany scheme, they switched uniforms and went to each other's school for a week.  While there, each fell in love with a student at their sibling's school, complicated by the fact of the disguises.  Now the week is over, but the romantic comedy is just starting!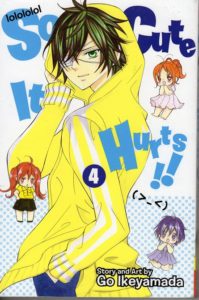 In this volume, the Kobayashi twins go on first dates.  Meguru is out with the dashing Aoi Sanada, a tough but gentle lad who reminds her of famous Japanese warlord Date Masamune.  They get along quite well, despite Aoi being afflicted with anxiety attacks whenever a woman (including Meguru and his half-sister Shino Takenaka) gets too close.  So they can spend time together, but not touch.
Meanwhile, Mitsuru finds himself spending the day with "mean girl" Azusa Tokugawa rather than the lovely Shino.  She blackmailed him into a day with her in exchange for not revealing his crossdressing adventure, but Mitsuru didn't understand what she meant and showed up in kendo dueling gear, while she's in Gothic Lolita finery.  Onlookers assume it's some sort of cosplay date.   Azusa is confused by her own feelings, alternating between anger at this stupid boy and being charmed by his good points.
But drama lurks in the wings.  Aoi's trauma runs deeper than he's been letting on, and Mitsuru may have waited too long to reveal his true identity to Shino.
Again, this is an adorable series with innocent feelings, and some amusing reaction faces, particularly from Azusa.  The crossdressing is mostly over, confined to an extended flashback.
Abuse in Aoi's backstory is hinted at, and Azusa's bullying is mentioned.  There's also some brief non-graphic violence.  But in general, this is safe for its target audience of junior high readers.
If you liked the previous volumes, this one is also good.