Book Review: These Honored Dead by Jonathan E. Putnam
Disclaimer:  I received this book through a Goodreads giveaway for the purposes of writing this review.  This review is of an Advance Reader's Edition, and there may be changes in the final product.
Joshua Speed is the junior partner at the Springfield, Illinois store of A.Y. Ellis & Co, and he has an empty space in his bed for a roommate in 1837.  As it happens, there's a new lawyer in town who needs a place to stay.  He's a tall drink of water, and rather an odd-looking sort of fellow, but there seems to be something special about young Abraham Lincoln.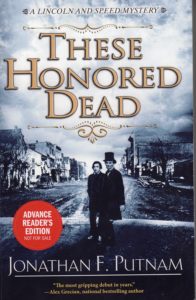 Mr. Lincoln's talents as an attorney are about to be put to the test, as a young woman from a neighboring village is shockingly murdered, and her aunt falls under suspicion.  Speed has his reasons for wanting to protect the older woman, and as more corpses appear, it becomes apparent that this is no ordinary murderer.   Can the team of Lincoln and Speed crack the case, and if they do, can they live with the truth?
This historical mystery is the first novel by Mr. Putnam, who is himself a trial lawyer and Lincoln enthusiast.   The narrative hints at further volumes in the series.  Not being an attorney myself, and certainly not versed in pre-Civil War Illinois law, I cannot speak to the accuracy of the depiction of that aspect.  Suffice it to say that some of the things various characters do would not be allowed in modern jurisprudence.  And Speed is forced to rethink some of his cultural assumptions when he realizes that the laws as they stand may prevent justice from being done.
Many of the characters are actual historical figures, at least one of whom is dramatically re-imagined for the sake of the plot.  Fortunately, they're all dead so it's unlikely the author will be sued. There's a helpful set of historical notes at the end.
The writing is decent, and Speed is biased enough to forget an important clue that will allow astute readers to figure out the mystery before he does.  In the ARE, one section towards the end of the story is printed in a different, and much harder to read, font.
Slavery and the laws of Illinois concerning it are a plot point, as are abuse of the poor and abuse of the mentally ill.
Overall, this is a competent historical mystery, which should appeal to fans of such, and may be of interest to Abraham Lincoln buffs.