Book Review: A Miscarriage of Justice by Nicholas Carter
The quiet village of Tarrytown, New York (not far from Sleepy Hollow) is rocked by scandal when Bert and Adele Denore cut their honeymoon in Cuba short.  It seems someone sent poison pen letters to the hotels and casinos they had planned to visit, alleging unspeakable things about Mrs. Denore's background.  (And you know it's unspeakable when a Cuban casino feels obliged to ban you to protect its reputation!)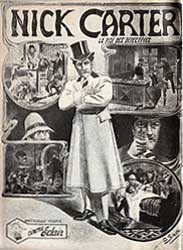 Due to the unusual stationery the anonymous letters were written on, suspicion falls on Marjorie Ellsworth, a minister's daughter that Bert had unsuccessfully wooed some time before.   More evidence piles up, and postal inspector Fraser thinks he's made his case.  But Marjorie's fiance Frank Dean is sure she's innocent, and engages the famous detective Nick Carter.  Nick soon convinces himself that Marjorie indeed is not the author of the poison pen letters..but there's not enough evidence to convince a jury of that–and seemingly no motive for anyone to frame her!
As mentioned in my previous Nick Carter pulp reviews, he also had a stunning career as a dime novel character, with over 1000 volumes of his adventures printed.  This one, originally published in 1914 a brought out in a "paperbound" edition in 1919, is one of them.  My copy is barely holding together, with the covers and some of the spine missing, but all the story pages are there, so I thought I'd better read it now before it disintegrates.
The story is…of its time.  Nick is easily able to discern good people from bad by their facial features (he's a trained expert at this) and plays fast and loose with the laws of evidence.  (Some dodgy legality at a court hearing is handwaved by the judge declaring it "informal.")  Marjorie is a "damsel in distress" who is pure and innocent as well as beautiful, and seems to have no skill set beyond being of good character.  Adele, being French, is a conniving woman of dubious character, but a much more dynamic person with considerable spine.
There's a small amount of violence, surprisingly none of it by the hands of the hot-tempered Frank, but this is decidedly not a murder case and the villains have no wish to make it so.  There's an unfortunate cameo by a black bellboy who speaks in heavy dialect.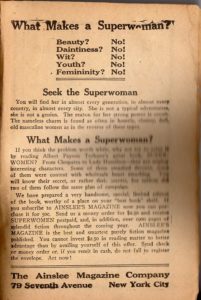 Nick could probably have solved the case much faster if he hadn't stuck to some cultural assumptions, but evidence would still have been hard to find.
Overall, this book is a disposable, quick and enjoyable read for fans of light detective fiction.  It's mostly valuable as a curiosity, but people who love old books should keep an eye out for other Nick Carter volumes.