Anime Review: Hataraki Man
Hiroko Matsukada is an "editor" at Jidai, a weekly magazine.  What this means in practice is that she researches and writes articles, as well as working with at least one outside author who submits a serialized novel for the magazine.  At 28 and still single, Hiroko sometimes worries that she's missing out on a woman's "proper" existence–she and her boyfriend Shinji haven't had sex in months due to their conflicting schedules.  But when the deadline looms and her creativity is engaged, Hiroko enters "Hataraki" (hard-working) mode, shutting everything else out, and the thrill of being published makes it all seem worthwhile.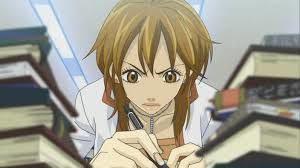 This 11-episode anime was based on a short manga series by Moyoco Anno (Sugar Sugar Rune) which has also been turned into a live-action TV drama.  Each episode focuses on Hiroko or one of the people in her life (including her masseuse!) as they deal with their work and personal issues.  For example, the photographer who would much rather be taking pictures of nature, but is stuck as a paparazzi, taking scandalous shots because that's what sells magazines.
Many episodes compare and contrast Hiroko with other characters.  Hiroko has a relatively brash, serious approach that comes off to Japanese people as "masculine" as opposed to, say, her co-worker Yumi Nogawa, who projects a pliant, traditionally feminine image to succeed in the world of sports reporting (what often gets denigrated as "feminine wiles.")  Hiroko also often clashes with rookie editor Kunio Tanaka, who is laid back and tries not to let his job take over his life, but often turns in slipshod work and evades responsibility.
Towards the end of the series, Hiroko's relationship with Shinji hits a crisis point at roughly the same time she gets a huge career break that will decide if she's going to be on the fast track for promotion.
Hiroko smokes and drinks (as do other characters) and grouses about the sex she's not having.  We see her topless a couple of times (the camera angle keeping the audience from seeing too much.)  Sexism is a running theme, both in direct actions by Hiroko's male co-workers, and the question of whether fitting into a gender role or defying it is a better life plan.
Overall, it's a reasonably realistic look at working in the world of magazine publishing, full of little epiphanies and setbacks.  Even Hiroko's large successes don't come without their costs, and the ending is bittersweet.
Bonus feature–here's the ending theme from the live-action version!