Book Review: Snuff by Terry Pratchett
Commander Samuel Vimes of the Ankh-Morpork City Watch, Duke of Ankh-Morpork and Blackboard Monitor, has been aware in a general way that his wife Sybil owns some property in the countryside.  But now that their son Young Sam is six, Sybil has decided that it's high time that the family take a holiday to visit the ancestral manor.   And she's somehow convinced Sam's boss, Lord Vetinari, to sign off on this.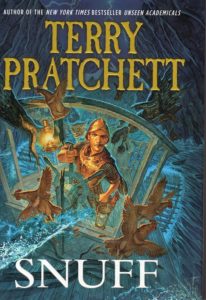 So Sam Vimes finds himself on vacation for the first time in ever, stranded far from the smell and sounds of the city he knows so well, and at a loss how to handle himself in a rural area where he's not got jurisdiction as a cop.  But as Sherlock Holmes remarked in "The Copper Beeches", the countryside is not free from vile sin.  When Vimes discovers that there's been a murder on his land and the oppressed cry out for justice, he's willing to bend the definition of jurisdiction to bring the villains to heel.
This is one of the last Discworld books (only two after this one) and the last of the City Watch sub-series.  While Vimes is front and center for most of the story, we do check in with many of the other continuing characters for at least a sentence.  (This is one of the few Discworld books to miss out Death as a character, but that does not mean that no one dies.)
Over the course of the series, Ankh-Morpork has advanced from a parody of generic sword-and-sorcery cities that happened to share some geographical features with London to more or less a fantasy version of Victorian London–and most of this progress has happened within Sam Vimes' lifetime.  Indeed, Vimes can be said to have facilitated much of this by his dedication to law enforcement that does what is right rather than what is convenient.  Another running theme of the books has been that people are people, regardless of their shape, odd customs or biological weirdness.  Dwarves and trolls and even vampires have become people, with all the rights and responsibilities that come with that description.  And now it is the turn of the goblins.
Goblins are the lowest of the low, considered filthy creatures with no visible culture, and treated as vermin.  Enslaving them, taking their sacred objects, killing them–none of these are considered crimes by the majority of people or the written law.   But Commander Vimes' previous experiences give him some unique ways of seeing the "humanity" of goblins.
And while his efforts do yield results, Sam Vimes would not be able to fully achieve the goal of bringing goblins under the protection of the law without the aid of his socially-connected wife, an author who has her own insights into goblin culture, and several goblins who step out of their stereotype to show their worth.  (Although there is some question whether Stinky is really a goblin…or something more.)
Much of the "humor" this time revolves around bodily excretions, as Young Sam has discovered the scientific wonders of poo.  For those of us not keen on toilet gags, this gets a bit tiresome.  There's also a fair amount of swearing, and a discussion of "the dreadful algebra" of what to do with an infant that's been born in a time of famine.  And not all sins are forgiven.
The general quality of the writing is excellent as always, but Sir Terry's sentimental side perhaps overwhelms the sharper edge of social satire, particularly in the ending.
Recommended to Discworld fans; newbies should probably start with Guards! Guards! which is the first of the Watch sub-series.