Book Review: Lois Lane: Fallout by Gwenda Bond
Getting in trouble her first day at East Metropolis High School was not Lois Lane's plan.  Keeping her head down, fitting in, allowing her family to settle in for her general father's new long-term assignment, that was the plan.  But when she witnesses a student's report of bullying being laughed off by the principal (especially odd as Anavi Singh claims the Warheads are somehow bullying her inside her own brain), Lois' curiosity and hatred of injustice are aroused.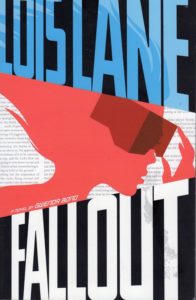 While her interference is not appreciated by Principal Butler, local newspaperman Perry White sees some potential in Lois, and invites her to join the staff of the "Daily Scoop", a teen-oriented website attached to the Daily Planet.   Lois decides to make school bullying her first news story, but she may be getting in over her head.  The Warheads are not ordinary bullies, and almost every adult in Lois' life is against her pursuing this scoop.  Good thing she has an online friend "SmallvilleGuy" that can help out some–now she just needs to make friends in real life!
This young adult novel re-imagines veteran comics character Lois Lane as a modern teenager just starting out on a journalism career path.  This works pretty well, and Lois makes a good YA protagonist.  She's mouthy, incurably curious, stands up for what she thinks is right and is clever enough to get herself in trouble but not always clever enough to get herself back out solo.  Her background as a military brat is a plausible explanation for such skills as she has, while allowing her to clash with her authoritarian father.
Romance is mostly on the back burner (thankfully); while Lois does have some romantic thoughts towards the fellow she met on an UFO website after reporting she saw a flying man, she's well aware that SmallvilleGuy is keeping secrets such as his actual name and appearance from her.  He does seem to be a good friend, though.
Other characters tend not to develop much; a couple have hidden depths that are likely to provide subplots for further stories.  (There's already a sequel.)
While Lois hasn't realized this yet, she does live in a superhero world, and there's some science-fictional technology that plays a part in the story.  Notably, it is not played as inherently bad, though it can be abused.  (In some cases, relatively harmlessly, as Lois' little sister Lucy demonstrates.)
The main problem for me was the central mystery of the book–possibly it's because I have decades of experience reading science fiction and superhero comics, but I figured out all the twists by about Chapter 4 of 25.  This meant that the story dragged for me while I waited for Lois to catch up.  I hope that this will not be so much of a problem for the intended audience of young adults.
Overall, it's a good first installment in what could be a long series, and I recommend it to fans of plucky reporters who enjoy knowing something the heroine doesn't.