Book Review: A Memory This Size and Other Stories: The Caine Prize for African Writing 2013 Introduction by Lizzy Attree
The Caine Prize is awarded to a short story written by an African author (which primarily means one born in Africa–all the authors in this volume are from Sub-Saharan Africa), published in English in the last five years and submitted for consideration.  This volume contains the five stories that were shortlisted for the prize in 2013, plus twelve more written at a workshop sponsored by the Caine Prize.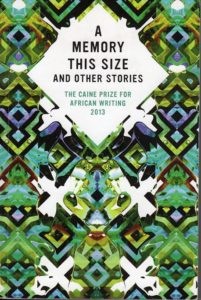 The collection leads off with the 2013 winner, "Miracle" by Tope Folarin.  A group of Nigerian immigrants attend a tent revival in Texas.  A great faith healer is scheduled to appear, but will there be a miracle tonight, and what form will it take?  I found this to be rather a blah story, but I am not one of the judges for the contest and don't know what criteria they based the decision on.  Nigerians dominate this volume, with four of the five shortlisted stories and several of the workshop ones as well.
Three of the five shortlisted stories have a heavy Africa-America connection, to the point that Chinelo Okparanta's story is actually titled "America."  A schoolteacher who wishes to join her lover there uses the Gulf oil spill as a wedge to try to convince the immigration people to give her a green card.   There's an interesting ending in which the protagonist remembers hearing a folktale similar to 'Jack the Giant-Killer" except that it stops short of the "ever after" with no explanation of what happens past a certain point.
The title story, "A Memory This Size" by Elnathan John concerns a man mourning for his brother, who died years ago, and yet he cannot let go.
There are common themes in these stories, most of which are "slice of life" tales:  government corruption, marital infidelity and environmental destruction.
There are a couple of stories that move into the "magical realism" camp (that is, fantasy, but not called that so critics can treat it as actual literature.)  The better one is "Howl" by Rotimi Babatunde, about a dog named Jack who may or may not have the extraordinary powers the villagers think, but is certainly not a normal dog.  "Clapping Hands for a Smiling Crocodile" by Stanley Onjezani Kenani, however, has the best title in this volume.  That story is about a fishing village threatened by oil developers, and the sacrifice one man makes to save their way of life.
I also enjoyed "Stuck" by Davina Kawuma, told in a series of emails by a young woman who is tempted to have an affair.  One final email changes everything.
My least favorite story was "Foreign Aid" by Pede Hollist.  This tale of a man who returns to Sierra Leone after many years in America, thinking he will be a big man thanks to his money, was too predictable and made me cringe rather than care.
That said, I am glad I took the chance to read this book and learn what some African writers are doing.  There are thirteen volumes of Caine Prize stories published; check your inter-library loan system for any one of them.
I should also mention that there is some disturbing subject matter, and would best suited for college age and up.