Book Review: The Queen of Zamba by L. Sprague de Camp (Also published as Cosmic Manhunt)
It started out as a normal missing person case.  Victor Hasselborg was hired to find runaway heiress Julnar Batruni.  Her trail is easy to pick up, as she used her own name to buy tickets off-planet with her lover, one Anthony Fallon.  Victor pursues them to the distant world of Krishna, where he runs into a snag.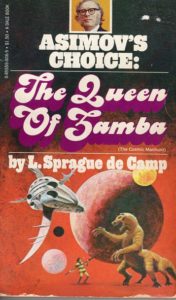 It seems that Krishna is under a technological interdict, to prevent the warlike natives from gaining the ability to destroy themselves (and others) before their civilizations advance to more peaceful methods of conflict resolution.  Thus Victor must shed most of his advanced equipment and disguise himself as a native to search for the lovers.  Can a man used to automatic pistols and fast cars survive with a sword and aya-drawn buggy?  And once he does find his targets, will he survive his encounter with the Queen of Zamba?
This story is part of the Viagens Interplanetarias setting, created by Mr. de Camp as a way to use many of the tropes of "planetary romance" in a more plausible way than had previously been the case.  (Edgar Rice Burroughs, the founder of the subgenre with A Princess of Mars, had focused more on the fiction side of "science fiction" and most authors writing in the same vein had stuck with that.)   So the Krishnans, while appearing close enough to Terrans so that they can easily disguise themselves as each other, can make whoopee with humans but not babies.  There's a reasonable explanation for using swords and riding animals when more technologically advanced items exist.  And our protagonists can't just zip between worlds–thanks to relativistic effects, voyages that take months for the traveling characters take years for the people left behind.  Even with improved human longevity and safe suspended animation, normal people with settled lives aren't keen on repeated space travel.
Thus our protagonist, Victor Hasselborg.  In some ways, he's a typical fictional private eye.  Disappointed in love, recovering alcoholic, tough talker, will kill if he has to.  But he's also a germ-phobic hypochondriac who is skittish around attractive women who seem a bit too interested, and none too interested in the adventurous life.
There's also some inventiveness in the general setting–after World War 3, the Soviet Union was gone and the United States crippled to the point it had to merge with Canada to survive.  And Brazil became the world's leading power, aided by having invented starships.  On the other hand, people still smoke cigars in this 22nd Century, and the number one occupation of Earthwomen is "housewife."  (A Krishnan woman expresses her desire to become one as the rumors she hears of Earth romanticize the position.)
During the story, Victor runs into treachery and eventually must team up with another Terran in disguise to prevent technological horror from being unleashed on Krishna.
Originally written in the late 1940s, this story was reprinted by Ace Books under the title Cosmic Manhunt and with the ethnicity of one of the characters changed due to politics.  This "Asimov's Choice" edition restores the original title and character.
To fill out the volume, a longish story entitled "Perpetual Motion" has been added.  Con artist Felix Borel comes to Krishna to fleece the natives with a twist on the technology ban.  He can't introduce any innovation that is beyond current Krishnan science or technology, but since perpetual motion machines are impossible, they don't count, right?  Felix is not a good person, though he can twist events to make himself look better–right up until his luck runs out.  This story shares a minor character with the main event.
This is light adventure and fast reading; even with the added plausibility, you shouldn't think about the science too hard.  Recommended for planetary romance fans.  There are quite a few Viagens Interplanetarias stories; I also recommend Rogue Queen if you can find it.