Book Review: Once Upon a Star: The Adventures of Manning Draco Volume 1 by Kendell Foster Crossen
In the 35th Century, many things have changed.  Terrans have gone to the stars and discovered the many alien races living out there, fighting with some, cooperating with others.  Right now, the Milky Way Galaxy is at peace.  Other things have not changed; there are still companies selling life insurance, and there is still insurance fraud.  And that's where Manning Draco, top investigator for the Greater Solarian Insurance Company, Monopolated, comes in.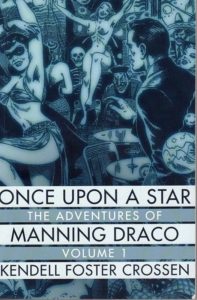 Of course, since Manning is the best insurance investigator around, that means he only gets the toughest cases, using  quirks of the local biology or customs to create loopholes in insurance policies.  Most of his workload is caused by crooked insurance salesbeing Dzanku Dzanku of Rigel IV, and his sidekick, the easily mindwiped Sam Warren.  The slippery pair have figured out all sorts of ways to cash in on insurance scams, but just try to prove it!
Once Upon a Star was originally published as four short stories in the 1950s, then edited together slightly to make a fix-up novel.  (Three other stories about Manning Draco are in the second volume.)  These comedic science fiction tales follow an obvious pattern.  At the beginning, Manning is on Earth, flirting with an attractive woman (like Captain Kirk, Manning Draco has broad tastes and will hit on just about any humanoid species–he draws the line at crocodile people.)  This is interrupted by his irascible employer, J. Barnaby Cruikshank, who describes an oncoming crisis the company is facing.
Manning flies off to the planet where the problem is in his private starship, the Alpha Actuary.  There he learns what Dzanku and Warren have been up to, usually involving something about that world that isn't in the official survey reports.  There will also usually be another attractive woman for him to flirt with.  Things get worse before they get better, but a combination of telepathy, eidetic memory and rules lawyering allow Manning to win the day.  (There's also some nifty technology at his disposal, but if anything it's underutilized and seldom plays a key role.)
As one might expect from the time these stories were written and the genre, Manning Draco is pretty much omnicompetent, though this does not always help a great deal.  For example, he's the one Earthling with any appreciable psionic abilities…which puts him at about average in Galactic society.  And while Manning is aces with the ladies, Dzanku is fully aware of this and is perfectly willing to use it against him.  (It should be noted, however, that at no point is a woman forced to do something she didn't want to do in the first place, despite one spoilery bit.)
Dzanku, meanwhile, is generally two or three plots ahead of Manning (having already set up the next scams while Manning has just arrived to fix the first problem), but suffers from the urge to gloat when he's winning and devise elaborate traps rather than just finish Manning off.  He's also addicted to gambling on games of skill, which Manning uses against him more than once.  Sam Warren is more or less a nonentity that Dzanku can have conversations with to advance the plot.
There's no damsels in distress in these stories as such, though Fifties attitudes are the default.  A female insurance investigator is rare enough that Manning Draco is taken off guard by one showing up, and there's a clear expectation that women will quit their jobs once they're married.  With one notable exception, the women in the story are fully capable of making up their own minds and have agency, and the exception is so because of [spoiler redacted.]
The science is dubious (there's an entire page-long note devoted to a nonsensical set of equations proving that people from outside a fast-time zone won't age faster while inside it, despite experiencing events at the faster rate.)   There's also some fantastic racism (Rigellians are inherently dishonest and have built their entire culture around deception and betrayal.)  And our hero at one point sells Dzanku into sex slavery as the best way to keep him imprisoned without dying (which would cost the insurance company money.)
Still, if you enjoy the 1950s style humor and want to watch a rules lawyer in action, this is the book for you.