Comic Book Review: Noble Causes Archives, Vol. 1 written by Jay Faerber
Liz Donnelly is nervous about meeting her future in-laws.  After all, she's just a normal bookstore manager, and they're the Noble Family, celebrity superheroes, beloved across the world.  Her fiance Race Noble is nice enough, but Liz soon learns that behind the glitzy facade, the Noble family has severe problems that are tearing them apart.  When tragedy strikes, it could be the ending of Liz's world, if not everyone's.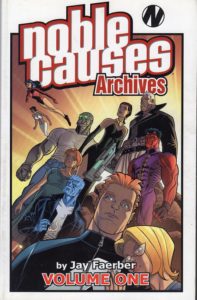 This Image Comics offering was a series of miniseries before getting approved for an ongoing (with a soft reset.)  It takes the soap opera aspects of modern superhero comics, and the idea of superheroes as celebrities, and runs with it.  Indeed, the soap opera is so central that it's several issues before we see one of the family do something that matches the "hero" part of the genre.
At the beginning, the family consists of "Doc" Noble, an inventor/adventurer who has retreated into his laboratory more and more as the years have gone by, rather than interact with his brood; his wife Gaia, a nature mage from another dimension who craved the celebrity lifestyle and has crafted the family's public image; Icarus, Doc's robot assistant, who considers himself the dutiful son; Rusty, who recently suffered an "accident" that required transplanting his brain into a robotic body; Celeste, Rusty's gold digger wife, who was unfaithful to him even before he became all metal; Race, a super-speedster who has the best emotional balance of the crew; Krennick, Race's best buddy and son of family enemy Draconis, who has an unrequited thing for; Zephyr, only daughter and a rebellious teenager whose promiscuity has gotten out of hand; and Frost, Gaia's son by a brief affair, who officially does not exist, and has been sleeping with Celeste.
Liz's marriage to Race helps precipitate a series of events that bring to light several family secrets and relationship crises.  The series is really good at issue-ending cliffhangers.
This black and white reprint volume covers up to issue #12 of the ongoing, and the resolution of the Zephyr pregnancy plotline.  There were a number of back-up stories that flashed back to events before Liz met the family; instead of being bundled with the main stories of each issue they were published in, they have been placed at the end of the volume.  These stories explain some motivations and sometimes make the characters' actions more sympathetic.
Content warnings:  There's a fairly gory scene early on, a lot of talk about sex (and some near-sex scenes) and some rather disturbing implications in the backstory.   I'd say senior high school and up for readership.
Many of the characters are not particularly likable.  (When Doc suddenly starts being a somewhat better husband and father, Gaia worries that he's terminally ill.)  But there are enough of them that are sympathetic or enjoyable to keep reading.
The art is by a number of different creators, mostly in the decent to acceptable range.
Recommended to comic book fans who are really into the soap opera aspect.