Book Review: Behind the Forgotten Front, a WWII Novel by Barbara Hawkins
Like many red-blooded American men after Pearl Harbor, Lieutenant Harry Flynn joined the Army to fight the enemy directly.  But the Army has a lot of jobs to fill, and his excellent handwriting gets Harry posted as a supply officer in a backwater post in India.  The Japanese have taken Burma (now Myanmar), cutting China off from supply by the other Allies.  Therefore, a road must be built from India through Burma to China.  Or at least that's what the brass think should be done.  Harry is unconvinced–this road seems to be killing more Americans than the Japanese ever did.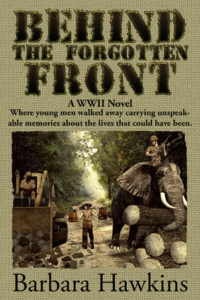 The CBI theater of World War Two is relatively obscure in American media compared to the European struggle against the Nazis or the Pacific campaign.  So this historical novel was a good change of pace, shedding light on an area I am unfamiliar with.
In the early part of this story, Lt. Flynn is cynical about his superiors, bored with his humdrum duties, and willing to take dangerous steps to fight against what he sees as a doomed strategy.  About a third of the way through, Harry is reassigned as the supply officer for Merrill's Marauders, a combat unit sent well into enemy lines to take out certain targets that will make it easier to build and use the road.  Then he sees plenty of action!
Probably the best parts of the novel are the descriptions of things that happened in real life, taken from the author's research (there's a reading list in the back.)  I'm a sucker for the gritty details of long marches and miserable weather.
Harry is not a particularly likable person, though he gets over his period-authentic racism pretty quickly.  (He's smart enough to realize it's a bad idea to antagonize the "Negro" troops, while a designated bad guy isn't.)  He does some things that put people in unnecessary danger, and probably kills at least one innocent bystander when a sabotage plan goes awry.  Some flashbacks establish where he got his sour attitude from, but don't justify his actions.
There's some salty language (perhaps not enough given the setting) and discussion of the factors that lead some women into prostitution.  Lots of violence, of course, with vivid description of the smells.
One character is built up as important in the first part of the novel, then vanishes with a "whatever happened to?" at the end; many other characters have on-page deaths.
The Kindle version I downloaded has a number of spellchecker typos, most commonly "lightening" for "lightning"–it's an older copy so these might have been fixed by now.
Recommended for readers who want to know a bit more about a relatively obscure part of WWII, and aren't up for reading straight-up military history (because that can get pretty dry.)