Manga Review: Noragami: Stray God #1 by Adachitoka
Mutsumi is in a bad way.   Not only is she under stress studying for the high school entrance exams, but her classmates have turned against her, bullying Mutsumi and encouraging her to self-harm.  She's locked herself in a toilet stall for a good cry when suddenly she sees a telephone number in the graffiti advertising someone named "Yato" who promises to solve her problems.  Desperate, Mutsumi calls the number.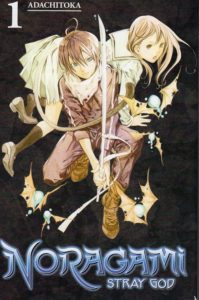 To her shock, Yato (who appears to be a teenage boy) and his female companion Tomone teleport straight into the girls' room to discuss Mutsumi's problem.  It turns out that Yato is a kami ("spirit" or "god"), but he's at the very bottom of the hierarchy, with no worshipers or space in a shrine, making him a "stray."  In an effort to increase his visibility and save up cash to buy a place to live, Yato has scribbled his number all over town, and charges five yen (roughly a nickle) for his problem-solving services.  Tomone is Yato's shinki, a living weapon with a mind of her own.
Unfortunately, Yato isn't all that bright, and tends to solve problems by cutting them with his sword.  Mutsumi's problems are partially caused by an ayakashi (hostile spirit) that is amplifying and feeding on the negative emotions caused by exam stress, and cutting that is relatively easy.  But that isn't the only issue, and how Yato finally solves it disgusts Tomone so much that she quits, leaving Yato weaponless at the end of the first story.
This series ran in Monthly Shounen Magazine in long chapters, so there are only three in this volume.  In the second story, Yato meets Hiyori Iki, a human girl who is a big pro wrestling fan, and due to an act of selfless courage develops the ability/problem of her soul slipping loose from her body.   In soul form, she's physically powerful, but also very vulnerable, gaining a "tail" that's actually a link back to her physical body–if it's cut, she dies!  The third story ends with Yato gaining a new shinki, Yukine, who is decidedly unimpressed with his master.
The name of the series immediately brings to mind the classic 1930s manga Norakuro, about a stray dog that joins a canine-people version of the Imperial Japanese army, learns discipline and valor, and climbs the enlisted ranks.  Little-known in America, it was popular and influential in Japan, with demilitarized versions appearing after World War Two ended.
Noragami is fun adventure-comedy, contrasting Yato's blunt and sometimes abrasive personality against Hiyori's naivety and sunniness.  While both of them are eager to help people, Yato is goal-oriented and must be compensated first (even if it is just a nickle) while Hiyori just does it because it's the right thing to do.  Yukine barely appears in this volume, so a full read on his character is not available here.  The art is decent and conveys the action and mood nicely.
As mentioned, the first story does involve bullying, and there is an element of victim-blaming.  There's a small amount of incidental fanservice–thankfully, the "camera" does not linger.  And of course there's a certain amount of fantasy violence.  It should be suitable for junior high readers on up; parents of younger readers should point out why victim-blaming is not useful.
This series was popular enough to get a two-season anime adapation, which I have not seen.   Recommended for fans of shounen fantasy manga.