Book Review: Japan Tuttle Travel Pack by Rob Goss
Disclaimer:  I received this book through a Goodreads giveaway for the purpose of this review.  No other compensation was offered or requested.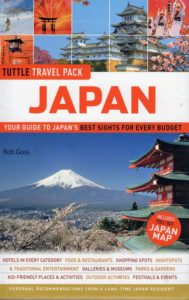 Tuttle Publishing was founded by Charles Tuttle, a Vermonter who came to Japan with Douglas MacArthur's staff after World War Two.  His job was helping the Japanese publishing industry get back on its feet; along the way he married a Japanese woman and founded the first English-language bookstore in Japan.  Tuttle Publishing's goal is to print "books to span the East and West."  So it's not too surprising that they'd publish a tourist guidebook.
The author is a British writer who has resided in the country since 1999 and traveled extensively, writing about his journeys and Japan's tourist destinations.
The book itself is thin and light, designed to fit well into a backpack or tote bag for easy consultation.  There's  a fold-out map of Japan (and details of certain areas) tucked into a pocket in the back, as well as several detail maps in the book itself.  There are many color photographs as well.  (One of Sapporo's Snow Festival is reused several times.)  It's slickly produced, but sturdy enough that it should survive a several week journey.
After a quick overview of Japan at the encyclopedia summary level, the main book starts with a chapter of "must-see" sights, ranging from Mount Fuji to the "Art Island" of Naoshima.  These alone would take a month or so to get in with any comfort, as they are scattered all over the country.
This is followed by an "Exploring Japan" chapter that focuses on the tourist sights of the major cities and individual regions, making it easier to plan an itinerary.  This includes callbacks to the opening chapter, but also mentions what else is around the must-sees.  There are sidebars on local cuisine travelers might like to sample.
Chapter 3 is the "Author's Recommendations" section, where he talks about hotels, museums, kid-friendly attractions and the like that he personally really likes.  The edition I have is from 2013, so there may have been some changes–he mentions that a particular fish market was scheduled to move to a different location in 2015.
The last major section, "Travel Facts" is the most likely part to be useful on your actual trip, with the location of important embassies, key Japanese phrases to use, how the transportation system works, and so forth.  There's an index and a page of photo credits.
The language is clear and straightforward, with key words bolded to make them easier to find.  As a tourism booster, it focuses almost entirely on the positive; people who like to be more cautious might want to do further reading to see what they need to prepare for.
This book would be most useful for tourists who like to plan their own itineraries, or at least dream about doing so.  Package tours, well, you see what's in the package.   People who want to live in Japan for extended periods will need to consult more substantial materials.
Another group that might find this book useful is fanfiction writers.  You've decided that Jeneriku High School will be taking a summer field trip to Okinawa; how long will it take to get there, where will Hana and Tarou be going on their date, and what sights offer the most ideas for plot twists?
Overall, very good of its kind.