Manga Review: Inuyashiki #1-3 by Hiroya Oku
Life is tough for Ichiro Inuyashiki.  He's only 58, but looks a good ten years older.  His wife and children think he's a loser (and they're not entirely wrong,) he gets pushed around by jerks, and now he has cancer.  The prognosis is terminal, a few months at most, and he's not sure anyone will miss him when he's gone.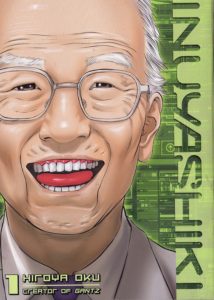 The only creature on Earth that seems to appreciate him is his Shiba dog Hanako.  And it's when he's out walking Hanako in the park that Ichiro's life takes an unexpected turn.  When he wakes up in the wee hours of the morning, Ichiro has missing time, and his aches seem to have disappeared.  Little things keep adding up, until Mr. Inuyashiki finally realizes he isn't human any more.
This seems to be the last straw, until Ichiro sees some juvenile delinquents attacking a homeless man, and for the first time in his life, he can step up to help…
The "aliens accidentally kill an Earthling, and rebuild him (or her) with superpowers" plot device is a long-running one, even being parodied in Osamu Tezuka's A*Tomcat.  The writer is fully aware of this, and references Tezuka's Astroboy, which A*Tomcat was riffing on.  But it's mixed with the "dying man finds a new purpose in life" plot from Akira Kurosawa's classic film Ikiru.
The opening scene is the Inuyashiki family moving into the new home that Ichiro has saved up years to be able to buy–which would be a nice place except that it's literally overshadowed by newer and bigger houses on either side.  It's clear that Ichiro didn't consult anyone else in the family before making the purchase, and the surprise he wanted to impress them with is a huge disappointment.  Still, they could be a teensy more appreciative.
The homeless man later in Volume 1 is almost ridiculously sympathetic.  He's working again, tomorrow he'll be able to move into a place with a roof, his ex agreed to take him back, he has everything to live for…so naturally now is when the monstrously cruel tweens decide to attack him for funsies.  Saving him and finding a way to punish the children without using violence against them makes Ichiro feel alive again.  Saving lives makes him feel…human!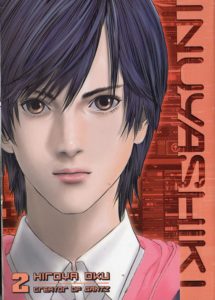 Unfortunately, Ichiro wasn't the only person in the park that night.  Teenager Hiro Shishigami was also present, and also rebuilt by the aliens with unusual powers.  In Volume 2, he takes center stage for a while, helping one of his friends who's being bullied–and also murdering an entire family for fun.  Hiro only feels alive when he's killing, and now he can whenever he wants.  Ichiro tries to confront the boy, but neither of them recognizes the other, and while Hiro is able to escape, his instant-death power doesn't work on the older man.
In some ways, Hiro is a very typical teenager.  He likes comics, is bad at talking to girls, wants to help his friend, and lets his impulses override his better judgement.  The excessive bloodthirst is much less typical.
Not knowing how to track Hiro down, Ichiro explores various ways his abilities can help others.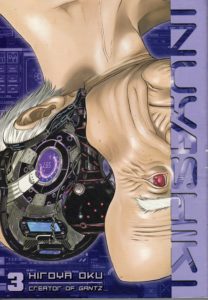 In the third volume, the gigantic Yakuza thug Samejima becomes the main enemy.  A man of enormous appetites, he chooses to kidnap a woman to be his sex slave until his abuses kill her.  Through gumption and quick thinking, she temporarily escapes, but that just makes Samejima angry and willing to kill her boyfriend.  It's at this point that Ichiro interferes; but even with his new powers, Samejima's physical prowess may be too much for him to handle.  Plus, of course, making the entire Yakuza his opponents.
The creator's previous work was Gantz, a long-running SF action series noted for over-the-top violence, gratuitous nudity and disturbing sexual situations.   The first volume of this series might fool you into thinking it's more sedate, but by the third volume we're back to things like mass eye-gouging and on-page rape.  Sensitive readers should exercise caution.
One thing this series has that Gantz initially didn't is a sympathetic viewpoint character.  Mr. Inuyashiki means well from the beginning, even if he doesn't have the courage or physical skill to back up his convictions.  And while his family does come off as pretty awful people, we can understand some of their feelings about the situation.
On the other hand, the "teens are monsters" thing gets tiresome quickly, and in a way it's a relief when the adult criminals take center stage.
Recommended to fans of Gantz and those who enjoy well-drawn ultraviolence with gratuitous nudity in their science fiction.