Movie Review: When Marnie Was There directed by Hiromasa Yonebayashi
Anna is an orphan with asthma and alienation issues.  When she is sent to a rural village for the fresh air, Anna believes her foster parents are just dumping her on their friends  for the summer.  But the area certainly isn't a bad place to be, and her hosts are gracious.  Anna starts making sketches of the nearby Marsh House.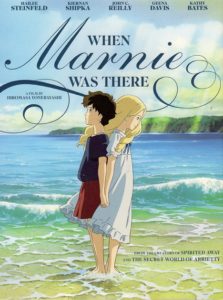 Anna is told that the Marsh House is long abandoned, and when she peeps in the windows, it certainly appears to be.  But sometimes there are lights, and a girl named Marnie that seems very interested in meeting Anna.  Are Anna's experiences just dreams by a lonely girl…or is Marnie very real after all?
People who are only slightly acquainted with anime might think it is only kiddie shows designed to sell toys and lurid sex & violence shows for "mature viewers", but Japanese animators also have a long tradition of creating adaptations of classic children's literature.  In this case, it's a relatively obscure British book by Joan G. Robinson, done by Studio Ghibli (Spirited Away).
The setting is swapped from Norfolk to rural Japan, but this does little violence to the story.  Indeed, Anna's unusually blue eyes become part of the reason she feels like an outsider, and she's very sensitive about them.
There are some mildly scary bits, and Marnie's background turns out to be quite sad, so parents of younger viewers should watch this with them.  But it's a gentle story that unfolds slowly and to a certain degree predictably.  Anna learns that she isn't as unloved as she thought, that she has connections, and even becomes able to make friends in the ordinary world.
As usual with Ghibli, the art is beautiful, with many views of lived-in houses, watery landscapes and rolling green hills.  The Japanese voice acting is excellent, and there are some fine voices in the dub as well.  There's some odd staging of the first few scenes between Marnie and Anna that make it come off like the start of a romantic relationship; presumably this is due to Japanese cultural differences, because that is not what Marnie has in mind.
Worth looking into if you have enjoyed other Ghibli films, or have children around twelve (Anna's age) to watch it with.  Also consider reading the book; the movie gave it a boost, so you may be able to find it at finer libraries.