Manga Review: Orange the Complete Collection 1 by Ichigo Takano
If you could send a letter to yourself ten years in the past, what would you say?  "Life will get better after high school"?  "Don't drink and drive"?  "Here are the winning lottery numbers for [date]"?  On the first day of her junior year of high school, Naho Takamiya receives a letter that purports to be from herself ten years from "now."  It correctly predicts a series of events, including that a new boy from Tokyo, Kakeru, will be joining her group of friends.  Then it gets to the reason the letter was sent.
One of Naho's friends won't survive the year.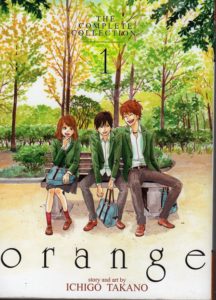 This is a shoujo (girls') romance manga with a touch of melancholy.  Naho is a motherly girl who cares deeply about her friends, but she's also quite timid and a bit of a doormat.  Even though she knows her future self is giving good advice, Naho hesitates to stand up for herself or tell people how she really feels, and several opportunities to influence events slip through her fingers.
There is also a bit of a love triangle involved.  Kakeru Naruse clearly has feelings for Naho that deepen over time, but he's hurting inside and distances himself from others–he is considering suicide.  Hiroto Suwa also has feelings for Naho, but considers his friendship with Kakeru important enough to set those aside to help the couple get together.
The other characters are less developed in this first volume (which contains volumes 1-3 of the Japanese version.)  Azusa Murasaka is a bit loud and flashy; Takako Chino is more elegant but has a short temper; and Saku Hagita looks gloomy and serious, but has a gift for saying funny things.
The story is set in Matsumoto, a small city in the mountainous area of Nagano Prefecture.  Every so often there's some nice art of the local scenery, but most panels skip backgrounds.  Otherwise, the art is decent and conveys the action and emotions well.  The location also plays into the motivation of "mean girl" Ueda, who tries to start a romance with Kakeru based on the fact that they're both from big city Tokyo, not like the provincial locals.
After a while, we do get glimpses of future Naho and her surviving friends, as the events that lead to the letter being sent back slowly unfold.  There's some discussion of how time travel might work–will changing the past overwrite the previous events entirely, or does it simply create a new timeline starting from the deviation point?  Naho's letter becomes less useful as she does start making decisions that vary from the original; by the end of this volume, Naho has decided not to rely on it anymore.  This decision is helped along by plot twists at the end of Japanese volumes 2 & 3, which genre-savvy readers will see coming.
The story does deal with suicide and its effects on the survivors, the regret and guilt it causes.  It's made clear that there's no magic bullet for suicide prevention.  The support and attention of friends does help, but they can't always be there, and it is clear that they might still fail.  (And of course, Naho can't just tell responsible adults what she knows without revealing her source.)
An anime adaptation is running as of this writing, and you can probably find it on a streaming service.
Recommended for teens who enjoy a touch of science fiction in with their melancholy romance, and are able to handle the theme of suicide.