Book Review: Midnight at the Mansion by Steven K. Smith
Disclaimer:  I received this book as a Goodreads giveaway for the purpose of writing this review.  No other compensation was requested or received.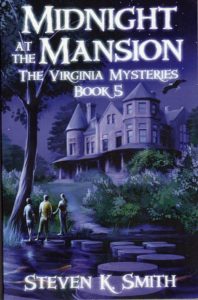 Brothers Sam and Derek, and Sam's friend Caitlin, are enjoying a day at Maymont, a historic estate in Richmond, Virginia.  A man Sam and Caitlin meets seems very interested in the estate's bald eagles.  That same man later is seen running away from the estate, chased by two dangerous-looking fellows.  He drops his cellphone in his flight, and before it goes dead, it gives the children a cryptic clue.
Now the kids must unravel a threat to the eagles, and also to themselves.   Their parents wouldn't approve of putting themselves in danger…but surely convincing Caitlin's father to take them hiking wouldn't hurt.
This is the fifth book in The Virginia Mysteries series of children's mysteries.  It provides some perilous thrills for young readers (aimed at about fifth-graders like Sam & Caitlin; Derek's a touch older) while teaching them a little bit about Virginia history and landmarks.
There isn't a whole lot of actual mystery here–book-smart Caitlin figures out pretty much exactly what's going on, and only their worries about not being taken seriously prevent the kids from simply telling a responsible adult who would end the book's plot about halfway through.  Derek's physical bravery gets them in trouble about as often as it gets them out; Sam is more cautious, but rises to the occasion when the crunch comes.
The crooks behave rather stupidly to give the children a chance at cracking the case; masterminds these are not.
There's a bit of talk about endangered species, and a passing reference to race-based classism.  A Confederate-themed biker gang appears as good guys; parents may want to discuss with young readers why that might come off as uncomfortable to some people.
Derek teases Sam frequently about various things, including his friendship with Caitlin.  Sam and Caitlin themselves are just good friends so far as this book goes.
This book is self-published, but well put together.  It's double-spaced for reading ease, I didn't spot any typos, and the cover is appropriate for the story–more symbolic than it might first appear, but that is definitely the Maymont Mansion.
Recommended primarily for kids living in the Virginia area, or who have relatives living there, but it should suit any fifth-grade mystery lover.