Book Review: Curiosities of Literature by John Sutherland
This is a book of trivia, factoids and amusing stories about the world of literature.  The author is a professor of English literature, so he knows his stuff.  The book is organized by loose themes, beginning with food (both as featured in literature, and as eaten by authors.)  There are bits on authors' pen names, sales figures and famous deaths.  After the index, there's an essay on "the end of the book" where Mr. Sutherland muses whether the codex book as we know it will soon vanish, replaced by electronic media or even telepathic communication.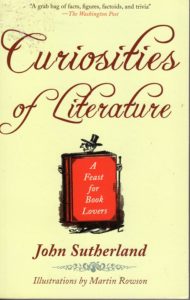 The illustrations are by Martin Rowson, who is in the old style of detailed editorial cartoons, and give a very British feel to the book.  (The words are less obvious about it.)
Being relatively widely-read, I had run across many of the factoids before, but there were some I had no idea of, or had long forgotten (like the true fate of V.C. Andrews.)  Mr. Sutherland makes no pretense of being neutral in his opinions–he's particularly scathing about the Left Behind series.  His writing is informative and readable; it might be worthwhile to look his more serious work up.
As with many other trivia and lists books, this is less something one would buy for themselves, and more something to buy as a present for a relative who loves reading.  As such, it's good value for money–but given that "mature themes" are discussed, I would not recommend it for readers below senior high school age.