Anime Review: Ghost in the Shell: Standalone Complex, Vol. 03
It is the year 2030, and after the effects of World Wars Three & Four, Japan is relatively unscathed, having become one of the world's economic and technological powerhouses.  In particular, they lead the world in cybernetics, and various cyborg upgrades are commonplace.  Of course, this means that cybercrime is even more of a threat than in 2002 (when this series first aired) and the government agency "Public Security Section 9" is detailed to deal with those crimes, especially if they also involve terrorism.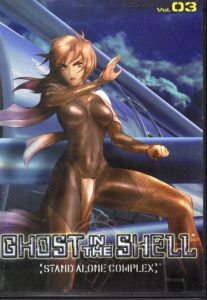 Section 9's top agent is Major Motoko Kusanagi, who is a full-body cyborg, a "ghost in the shell."  She has been in this state since childhood, and is adept at transferring her consciousness into alternate robot bodies (though she has a strong preference for ones shaped like female human beings.)  Along with her superior combat skills, this makes her a whiz at secret agent missions.
The Major and her colleagues will need every bit of their skill to battle the world-class hacker and cyberterrorist known as The Laughing Man, whose real face is impossible to see by anyone or anything with cybernetic connections, replaced by a bizarre logo adorned with Catcher in the Rye quotes.
Standalone Complex is a science-fiction anime series based on the Ghost in the Shell cyberpunk manga by Masamune Shirow.  While it shares many characters and most of its background with the manga and previous adaptations, it is not necessarily in continuity with those, so there are some minor contradictions.  "Motoko Kusanagi" (a name rich with connotations in Japanese culture, equivalent to naming a British secret agent "Victoria Excalibur") may not even be the Major's real name.
The structure of the show is interesting; odd-numbered episodes are "complex" and tie into the Laughing Man plot arc, while even-numbered episodes are "standalone" and tell individual stories.
As it happens, I got the third DVD volume of the series for Christmas, so let's take a closer look at that.
Episode 9, "Chat! Chat! Chat!" takes place almost entirely within a virtual reality chat room for discussion of the Laughing Man phenomenon.  This…is not a good episode to come into the series on, as it is largely just people sitting around having conversations.  And not even the main characters (except the Major in disguise) but a bunch of people who probably didn't appear before and won't appear again.  We do get some background on what is public knowledge about the Laughing Man (not much) and some discussion of whether it's even the same Laughing Man from previous incidents or a copycat.
Episode 10, "Jungle Cruise" focuses on Batou, a former Army Ranger with obviously cybernetic eyes.  A serial killer is loose in the city of Niihama, who skins his victims alive in a distinctive fashion.  The identity of the killer is quickly revealed when two CIA operatives from the American Empire (World War Three was not kind to the United States, which split up into three countries, of which the Empire is the most active in world affairs) appear to ask Section 9 for help capturing him.
We learn that the killer was part of a CIA black ops mission in Southern Mexico known as "Project Sunset."  It involved murdering civilians in particularly horrific fashion to break the will of the enemy.  Batou, as part of the UN peacekeeping forces, encountered the killer, but was unable to stop him.  The killer's war has not ended, now brought to the shores of Japan,  Does this also mean that Batou's war is not over?
Episode 11, "Portraitz" follows Togusa, the least cyberized field agent of Section 9 (just a "cyberbrain" that allows him to communicate with other people who have cyberbrains) as he infiltrates a facility for children  with Closed Shell Syndrome, a condition where one becomes too dependent on cybernetic communication, making it difficult to operate in the real world even while becoming a savant with computers.  There's something sinister going on in the facility; but is it one of the staff who's responsible, or one of the patients?
Episode 12, "Escape From" is two related stories.  In the first half, a Tachikoma (an artificial intelligence robot that serves as a small tank for Section 9) goes walkabout without orders, heading into the city and learning about the human concept of death.  Along the way, it picks up a mysterious box.  In the second half, we learn that if someone cybernetically connects to the box, their "ghost" vanishes inside it and won't come out.  The Major must investigate, but will she too be seduced by what's inside the box and lost forever?
This one manages to touch on some deeper philosophical topics:  death, the rapidly developing individuality of the Tachikoma AIs, escapism and artistic integrity.
Each episode ends with a short comedy skit starring the Tachikomas, usually tying in with the plot of the episode somehow.  Also included in this volume are interviews with Batou's actor and the sound director.
The opening credits are full-on CGI, which is a bit jarring, and really showcases how silly the Major's default outfit looks, especially from behind.  (It reminds me of the US superhero comics fad for putting their heroines in costumes that were basically glorified swimsuits.)  The music is good, though.
I liked "Jungle Cruise" best of the episodes in this volume.
Content notes:  "Jungle Cruise" does involve skinning people alive, and we see some of the results.  There's a nude female statue in "Portraitz", which some parents might find unsuitable for younger viewers.  (But honestly, if you let them watch the previous episode…)  The dub version may have some rough language.
Overall, I am looking forward to seeing the entire series so that I can make more sense of the Laughing Man episodes.  Recommended to fans of other Ghost in the Shell versions, and cyberpunk fans in general.
Here's the opening music, for those who like that sort of thing: