Book Review: The Killing Moon by N.K. Jemisin
The city of Gujaareh worships Hananja, the goddess of dreams.  Their entire culture is centered around the power of narcomancy to draw magical power from dreams to heal and perform other wonders.  The most powerful of these "humors" is dreamblood, which is only produced by a person's final dream.  Thus a small group of holy men called the Gatherers are dispatched to bring gentle death to the aged and incurable–and sometimes those that would threaten the peace of the city.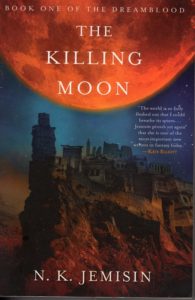 Ehiru is considered the most skilled of the Gatherers, in much demand to bring surcease to the suffering.  But his most recent Gathering has gone horribly wrong.  He has condemned a man to eternal nightmare, and threatened his own sanity.  Why, Ehiru is even seeing what looks like a Reaper, a mythical corruption of the Gatherers that has not existed for centuries.
Sunandi is the Voice of Kisua, an ambassador from that ancient land to Gujaareh.  She is suspicious of the magic that pervades the entire city; to her euthanasia and assassination are evil.  Sunandi is investigating the sudden death of her predecessor (and foster father) Kiran.  Is the Sunset Prince of Gujaareh up to something even more sinister than she expected?
Nijiri is a faithful follower of Hananja, whose long loyalty and training are rewarded when he becomes a Gatherer-Apprentice under the tutelage of Ehiru, his personal hero.  However, this is not an auspicious time to become a Gatherer, and Nijiri may end up having to do the unthinkable to remain true to his vows.
This fantasy novel is the first in the Dreamblood series by N.K. Jemisin, who recently won a Hugo Award for her book The Fifth Season.  The geographical setting and other details are evocative of Ancient Egypt, but this is very much not Egypt, or even Earth, as is quickly made clear by the existence of the Dreaming Moon.  Ms. Jemisin's introductory note mentions that one of the difficulties was coming up with names that sounded right, but didn't mean anything in Egyptian.
Many of the cultural details revolve around Gujaareh's unique form of magic; for example, the equivalent of temple prostitutes don't have sex with the worshipers, but instead guide them into erotic dreams from which healing "dreamseed" can be extracted.  The Gatherers are central to this story; they have great power and special training, but must devote themselves to self-control–losing that control makes them vulnerable to becoming Reapers.  Unfortunately, someone has found a way to pervert the system and use it for their own purposes.  Peace is the will of Hananja, but whose definition of "peace" will it be?
There's quite a bit of world-building, and it's nice to see a fantasy setting based in ancient African civilizations.  It's also quite pleasant that it's not "good vs. evil" as such, either.  Gujaareh's use of magic does a lot of good for its citizens, but Kisua's worries about the ethical problems of narcomancy and the dangers of collecting dreamblood are not unjustified.  Is denying a painless death to someone who cannot be cured of their constant pain who might live on for years yet unable to move worth holding to a principle?  But if you allow this "good death", who is there to stop all deaths that serve Hananja from being declared "good?"
Some of the characters fell a little flat for me, and a map would have been nice at a couple of points to make it clearer why certain journeys had to be made in a specific way.  On the other hand, there's a glossary, and in the paperback edition I read, there's an "interview" of the author by the author that explains a great deal of the reasoning behind details of the setting.
Overall, this is an excellent book, well worth searching out if you're looking for something different in your fantasy worlds.