Book Review: The Woman Who Breathed Two Worlds by Selina Siak Chin Yoke
This is the life story of Chye Hoon, a Nyonya (Malaysian woman of Chinese heritage) who lives between 1878 and 1941, a time of great change in her homeland.  Initially a willful child who wants to break out of her culture's tradition (why shouldn't a girl get the chance to go to school like her brother?), Chye Hoon grows into a young woman whose reputation for temper and independent spirit seem to doom her prospects for marriage.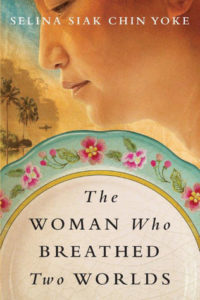 But an enterprising matchmaker brings her together with a Chinese immigrant named Wong Peng Choon.  Despite this being an arranged marriage and the pair never actually meeting until the wedding, things work out well.  Peng Choon appreciates Chye Hoon's cleverness and unwillingness to be cheated, and in return is a good husband.  The young couple moves to Ipoh, a rapidly growing tin mining town.
The next decade or so is good to the couple; Peng Choon is much in demand as an accountant, and Chye Hoon has ten children!  But then Peng Choon must return to China to take care of some family business.  He perishes in that far-off land; while he was careful to make sure that Chye Hoon had enough capital for a couple of years, she knows that raising ten children will soon drain that, and jobs for widows with no formal education are few and low-paying.
Chye Hoon applies her cleverness and cooking skills to the problem, becoming an entrepreneur in the field of tasty kueh (Nyonya cakes of both sweet and savory varieties.)  There are many difficulties involved in making the business a success, but she and her servants make a go of it.
Meanwhile, Chye Hoon must also raise her children, facing times of joy, times of heartbreak and times of great frustration.  In this last category is the increasing  influence of the British over the Malay States as they take firmer control of the government, and increasingly the young people adopt Western ways.   Chye Hoon has become a traditionalist who fears that her people's heritage will be forgotten in the rush to modernize.
Chye Hoon is based loosely on the author's own great-grandmother, and apparently many family stories were woven into the narrative.  The parts of the book that give a sense of the time and place are fascinating.  Less helpful is that quite a few of the large cast are underdeveloped or vanish from the story–a couple of the sons get brief mentions at times just to remind us they're still alive but not doing anything relevant.
The author has made some interesting stylistic choices; uneducated characters use traditional Malayan syntax, while those with formal schooling speak British English.   (Even when they're clearly not using that language.)  There's also frequent usage of traditional Malayan filler words and interjections, and the author has chosen to use the older transliteration of some words, as well as some language that is now considered pejorative.  In places, this works well, and in other places it becomes intrusive.  (It also kind of raises the question of just who Chye Hoon is telling this story to at the end.)
The story ends just before the Japanese invasion during World War Two, which gives a pretty obvious cue for a sequel with the surviving family members.
Worth checking out if you are into family saga stories, and especially if you are curious about Malaysian history and culture.