Book Review: The Four False Weapons by John Dickson Carr
Richard Curtis, junior partner at the law firm of Curtis, Hunt, D'Arcy & Curtis, is beginning to regret his career choice.  The office-bound life of a solicitor is dreadfully dull for a young man that longs for adventure and secret missions!   Just as he is about to succumb to utter boredom, Mr. Hunt, the acting senior partner, calls Richard in for a conference.  It seems that Ralph Douglas, a wealthy young client of the firm, has noticed odd things going on at a villa near Paris that he rents but does not live at.  It's probably nothing important, but can Richard dash across the Channel to check in with Mr. Douglas?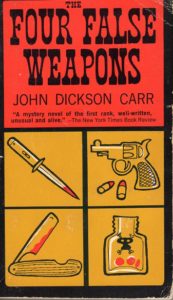 As it happens, Ralph is in a bit of a delicate situation between his fiancee Magda Toller, her overprotective mother, and his ex-lover Rose Clonec.  The villa in question was where he put up La Clonec while they were together; it's supposed to be shut up tight, but someone's been there recently and turned on the electricity and laid in a supply of champagne.  Ralph can't contact Rose directly to ask if she's responsible without arousing the suspicions of Mama Toller.
When the men drive out to the villa, they find a maid who claims that Ralph was there last night (he claims he wasn't.)  Worse, they find the corpse of Ms. Clonec in an upstairs bedroom.  There are multiple potential murder weapons in the room, but are any of them what actually caused her death?  If Ralph's telling the truth, then it's a pretty sweet frame job, but who would do this, and why?  Good thing famous police detective Bencolin has been called out of retirement for this one last  case!
John Dickson Carr (1906-1977) was considered a master of the "locked room" mystery, where a crime seems impossible, but this one (the fifth and last Bencolin book) isn't so much a locked room, as one with too many and contradictory clues that Bencolin must sift through.  At one point early on, he declares that he knows who done it, but not why or how–a couple of chapters later, new evidence turns it upside down, and now he claims to know why and how, but no longer who!
While the puzzle pieces are being assembled, Richard tries to act in the best interests of his client while falling in love with Magda.  This romance subplot is possibly the least necessary element of the book, and comes across rushed and forced.  Much more fun are the antics of newspaper reporter and amateur sleuth Jean-Baptiste Robinson, who keeps guessing almost right.  (He also sports a Hitler mustache, which in 1937 was just eccentric, but a couple of years later would have gotten him lynched.)
The climax is a high-stakes card game where Richard must play Basset, a lost game of kings, to reveal the final clue Bencolin needs to prove who murdered Rose Clonec.  This ramps up the suspense considerably  as Richard doesn't know whether he needs to win or lose to achieve the detective's goal.
This isn't Carr's best work, but is a fun, light read; worth looking up at your local library if you enjoy older mysteries.