Manga Review: Pretty Guardian Sailor Moon 3 by Naoko Takeuchi
Usagi Tsukino doesn't look much like hero material at first glance.  She's clumsy, not the sharpest knife in the drawer, and a bit of a crybaby.  But Usagi has a secret heritage, and when talking cat Luna seeks her out, Usagi becomes the bishoujo senshi ("pretty guardian") Sailor Moon!  Now gifted with magical powers, Sailor Moon must seek out the other guardians and defeat the monsters of the Dark Kingdom to save the world.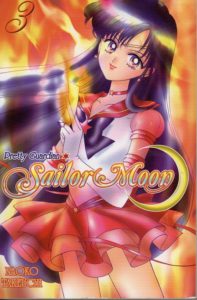 This 1991 manga series was groundbreaking in many ways.  The mahou shoujo ("magical girl") subgenre of fantasy manga and anime had been around since the 1960s, inspired by the American TV show Bewitched, but was primarily about cute witches, fairy princesses and ordinary girls who were gifted power by witches or fairies who used their magic to help people with their day to day problems and maybe once in a while fight a monster or two.  Takeuchi blended this with the traditionally boy-oriented sentai ("warrior squad") subgenre to create magical girl warriors whose primary thing was using magical powers to defeat evil.
It was also novel for being a shoujo (girls') manga with an immediate animated adaptation as Takeuchi developed the series in coordination with Toei.  The manga ran monthly while the anime was weekly, so the animated version has lots of "filler" episodes that don't advance the plot but do expand on the characterization of minor roles.  Indeed, it's better to think of the manga and anime as two separate continuities.
Both manga and anime were huge hits, though the versions first brought to America were heavily adulterated.  American children's television wasn't ready for some of the darker themes of some of the episodes, and the romantic relationship of Sailors Neptune and Uranus blew moral guardians' minds.  More recently, new, more faithful translations have come out, and there's a new anime adaptation, Sailor Moon Crystal that sticks closer to the manga continuity.
The volume to hand, #3, contains the end of the Dark Kingdom storyline.  Wow, that was quick.   Once forced into a direct confrontation, Queen Beryl isn't really much more formidable than her minions; only the fact that she has a brainwashed Prince Endymion (Tuxedo Mask) on her side makes the fight difficult.  Queen Metallia, the true power behind the throne, on the other hand, is a world-ending menace and it will take everything our heroes have plus Usagi awakening to her full heritage to defeat it.
Takeuchi had originally planned for her heroines to die defeating Metallia and ending the series there, but the anime had great ratings, and both Toei and her manga's editor felt that this would be too much of a downer.  After some floundering, the editor suggested the new character "Chibi-Usa" and her startling secret, and Takeuchi was able to come up with a plotline from there.
So it is that just as Usagi and Mamoru are getting romantic, a little girl who claims her name is also Usagi drops out of the sky to interrupt.  "Chibi-Usa" looks a lot like a younger version of our Usagi, and is on a mission to reclaim the Silver Crystal (despite the fact that she seems to be wearing a Silver Crysal herself.)  She infiltrates Usagi's family, much to the older girl's irritation.
At the same time, a new enemy appears, the Black Moon.  Led by Prince Demande and advised by the mysterious Wiseman, they seek not only the Silver Crystal but a being called the "Rabbit."  Their initial ploy is to send out the Spectre Sisters to capture the Sailor Senshi one by one.  The Spectre Sisters are very much evil counterparts of the Senshi, each having an elemental affinity and interests matching one of the heroes.  The first two, Koan and Berthier, are destroyed in battle, but not before they remove Sailor Mars and Sailor Mercury from the board.
In a subplot, a new minor character is introduced, an underclassman of Mamoru's whose job is shilling Mamoru and his fine qualities.  This is actually kind of helpful, as Tuxedo Mask had spent most of the Dark Kingdom arc either being mysterious or unavailable.  This allows us more insight into who this Mamoru person is when he's not around Usagi.
Rei and Ami get some development in their focus chapters, but seemingly mostly so that the Spectre Sisters can have similar interests.
Some of this comes off as cliche now, but that's because Sailor Moon was such a strong influence on magical girl stories that came afterward.  Here's where many of the tropes started!
The art is very good of its kind, and again seems less distinctive now because of imitators.
Recommended for magical girl fans, teenage girls and romantic fantasy fans.