Anime Review: Lupin the Third: The Italian Adventure
Arsène Lupin III, alleged French-Japanese descendant of the famous 19th Century criminal Arsène Lupin, is a master thief.  If he says he'll steal something, Lupin the 3rd most certainly will.  A master of disguise, able to open any lock, and possessed of great cunning, he steals treasures and hearts with equal ease.  Lupin usually works with gunman Daisuke Jigen, swordsman Goemon Ishikawa and femme fatale Fujiko Mine, though they aren't always loyal to each other–particularly Fujiko.  The gang is perpetually pursued by the dogged Inspector Koichi Zenigata of the ICPO.  Now Lupin the Third has come to Italy; what is he up to this time?  Is he really just there to get married?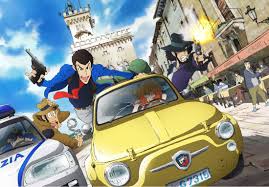 This Italian-Japanese co-production is the latest anime series based on the Lupin the Third manga by Monkey Punch.  The manga in turn was loosely based on the original Lupin stories by Maurice Leblanc.  Back in the 1960s, Japan didn't enforce international copyright, so when the Leblanc estate finally found out about the manga, they couldn't block it or insist on a cut of the profits, but were able to tie up international rights, meaning that most Lupin III products overseas had to use other names like "Rupan" or "Wolf."  (The original Lupin stories entered the public domain in 2012.)
The series begins in the small independent republic of San Marino, as Lupin marries bored heiress Rebecca Rossellini as part of a plan to steal the greatest treasure of that tiny country.  However, it turns out that Rebecca has her own plans, and with the aid of her faithful manservant Robson turns the tables partially on the master thief.  Since he never formally consummated his marriage with Rebecca, but neither is he formally divorced from her, Lupin decides to stay in the Italian area for a while.
One of his thefts brings Lupin into conflict with Agent Nyx of MI-6, who has superhuman hearing, among other gifts.  Nyx turns out to be a less than enthusiastic agent, who wants to retire from spying to spend more time with his family…but MI-6 needs him too much.
Things take a SFnal turn when it turns out there's a virtual reality/shared dream device out there which ties into the return of Italy's most brilliant mind, Leonardo da Vinci!  Lupin, his allies and adversaries must figure out how to survive the Harmony of the World.
The series is largely comedy, but with serious moments, and some episodes are  very sentimental indeed.  (This contrasts with the original manga, which had a darker sense of humor, and a nastier version of Lupin who would not hesitate at murder or rape to get his way.)   All of the major characters get focus episodes that explore their personalities and skills.
Placing the entire series on the Italian Peninsula (with brief excursions to France and Japan) gives it a thematic consistency that previous Lupin series have lacked, and this is all to the good.  Having new recurring characters also allows a bit more variety in plotlines for the episodes.  Mind, Rebecca can get annoying from time to time and feels shoehorned into a couple of episodes.  (A couple of Rebecca-centric episodes were removed from the Japanese broadcast order.)
While the primary appeal will be to existing Lupin the Third fans, this series does a good job of filling newcomers in on everything they really need to know.  If you enjoy stories about clever gentleman thieves with a soft spot for pretty ladies, this one is for you.
Here's a look at the Italian version of the opening theme!