Anime Review: Jojo's Bizarre Adventure: Diamond Is Unbreakable
Josuke Higashikata (the kanji for his name can also be read as "Jojo") has lived all his life in the northeastern coast city of Morioh with his single mother and his police officer grandfather.   When he was a small child, he became deathly ill for several weeks, and at one particularly dangerous moment, the family was helped by a passing stranger with a distinctive hairstyle which Josuke later adopted in gratitude.  Ever since recovering from his illness, Josuke has been able to manifest a Stand, a psychic projection that allows him to smash things and then fix them (he doesn't have to put them back together in the original configuration.)  He calls his Stand Crazy Diamond.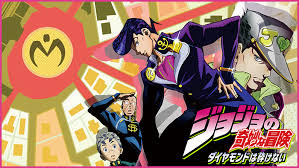 On the first day of high school, he and his new classmate Koichi Hirose meet a mysterious stranger who turns out to be Jotaro Kujo, a marine biologist who is Josuke's nephew.  Say what?!  It seems that Josuke's father is Joseph Joestar, an aging millionaire who had a brief affair with Josuke's mother some years back.   Jotaro is his grandson by Joseph's marriage.  The family only now discovered Josuke's existence, so Jotaro came to establish contact and deal with any legal issues…and also warn Josuke that there is a hidden evil in Morioh.  And so the bizarre adventure begins!
This is the fourth installment of the Jojo's Bizarre Adventure series of series about the Joestar family, based on the manga by Hirohiko Araki.  The story is set in 1999, the near future at the time (which might explain some of the bizarre fashions the school-age characters are allowed to wear to school…but I doubt it.)  It's a strong contrast to the previous installment, Stardust Crusaders.  Instead of a race against time across an entire continent, it's about a number of incidents that interrupt the daily lives of people in a single small city.  Unlike the world-conquering DIO, the ultimate villain of Diamond Is Unbreakable just wants to be left alone to live a quiet life as a serial killer.
However, this series also strongly ties back to the earlier ones.  In addition to the returning characters of Jotaro and Joseph, this storyline reveals at least some of the mysteries behind the power of Stands.  It turns out there are arrows tipped with meteoric stone; anyone pierced by them gains a Stand, but not everyone survives the process.  This is how DIO got his Stand (and somehow passed the change down to everyone related to Jonathan Joestar, whose body he was wearing at the time), and created many of his minions.
After the events of Stardust Crusaders the stone arrows wound up in Morioh, and several people have been pierced (and in addition people who were born with Stands have moved to the city, as Stand users tend to attract each other as if it were fate.)  Most of these people are at least initially hostile–it's good that Josuke has friends!
Josuke's Stand reflects his central trait of compassion, but his kindness is leavened by being much more of a "teenager" than Jotaro ever was.  He likes goofing around and more than once comes up with a get rich quick scheme based on his and other people's powers.  He's also very touchy about his hair.  Josuke is initially hostile to the now-seemingly senile Joseph, but eventually warms to his old man.
Koichi is a short, wimpy fellow who initially does not have the fighting spirit to survive being imbued with a Stand, and only lives due to Josuke healing him.  He undergoes the most character development of the heroes, learning how to use his Stand Echoes (which evolves along with him) and finding his true courage.  His personality is less off-putting than Josuke's, and he makes more friends, even getting a love interest!
Okuyasu Nijimura is initially an enemy, but this is largely due to the influence of his brother Keicho, who was creating Stand users to find a solution for their father, who had been a hidden servant of DIO and became severely mutated as a result.  After Keicho's murder by a would-be crimelord, Okuyasu joined the heroes to get revenge, and quickly became Josuke's best friend.  Okuyasu's simple but powerful Stand The Hand is seldom used to full advantage as he is kind of stupid.  ("I'm not very bright, you know" is Okuyasu's catchphrase.)  He's also most of the comic relief.
Jotaro Kujo is still the same stoic badass we saw back in Stardust Crusaders, but more educated.  He appears relatively seldom, preferring to concentrate only on the main enemies, but is much feared by the villains due to his Platinum Star Stand having a time stop ability, and having managed to defeat DIO.
About midway through the story, we also meet Rohan Kishibe, an extraordinarily gifted and arrogant manga artist whose stand, Heaven's Door, allows him to read people like a book.  Literally.  Rohan turns out to have a deeper connection to Morioh's mysteries than he ever suspected, and becomes allied with the heroes.
The unique Stand abilities and the differing personalities of the main characters allows for interesting battles-it's seldom as simple as overpowering an enemy, but requires lateral thinking, use of the environment and quickly understanding the implications of how the Stands interact.
The anime adaptation has been slightly rearranged to foreshadow the existence of the final villain and make the flow a little more even.  Still, there are a few episodes that feel like padding.  (The best of these, "Let's Eat Italian!" is a brilliant inversion of a common episode plot in the third series–in that one, any time our heroes entered a shop or eatery with a bizarre-acting proprietor and weird things happened, it was a deadly trap, while in this episode, the outcome is entirely different.)  I had to force myself to finish the episode that introduces Mikitaka, who is probably an alien, as it was just too sitcom.
The source material was aimed at boys, so it's not too surprising that there is less for female characters to do.  The most prominent is Yukako, a classmate of Koichi's who falls in love with him,  Unfortunately, she is a yandere (sweet on the outside, stalker-crazy on the inside) girl who makes Koichi very uncomfortable before learning to dial it back a few notches, at which point he begins to return her interest.  Sadly, despite her fearless nature and useful Love Deluxe Stand, which allows her to control her hair even when it's detached from her, she fades from the story once she reforms and doesn't help out in any further battles.
Then there's Reimi, a ghost bound to the alleyway she died near, and who has important clues to the final villain.  A small role, and she's not very powerful, but does get a couple of great scenes.
As a violent action series where two of the villains are serial killers, there's quite a lot of blood in various scenes (though actual wounds are blacked out) and one episode has full-frontal male nudity.  One villain has committed rape in their backstory, but doesn't get a chance for it in the present day.  There's also an extended and really creepy subplot in the later episodes that may be too uncomfortable for some viewers for spoilery reasons.
Due to trademark issues, many of the Stands (which have music-relateed names) have been renamed in the subtitles.  Crazy Diamond, for example, is renamed "Shining Diamond" even though you can still hear the characters saying the original name in English.
Overall, this series is a lot of fun for fans of superpowered battles.  If you liked the previous installments, you will probably enjoy this one–if your watching of Jojo starts here, you might be a bit confused for the first few episodes relying on readers remembering previous events.