Manga Review: Blade of the Immortal Omnibus 1 by Hiroaki Samura
Manji used to be the samurai retainer of Lord Horii, and served faithfully until the day he discovered that the people he'd just killed on orders from Horii were in fact not criminals, but innocent peasants who were going to the government with evidence of the lord's tax embezzlement.  In a fit of rage, Manji executed his master.  Now a fugitive, Manji wound up killing one hundred police officers in his efforts to remain free.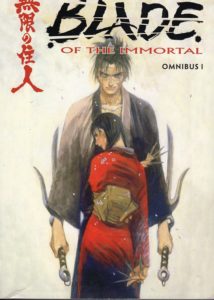 The last one turned out to be his sister Machi's husband, and witnessing this event drove her mad.  This sobered Manji somewhat, and he reconsidered his habit of resorting to lethal violence while trying to take care of his sister.  It was at this point that Manji met the Buddhist nun Yaobikuni, who infested him with the kessen-chu (holy bloodworms) that regenerate any wound, making Manji functionally immortal.
After a ronin (masterless samurai) gang murders Machi to force Manji into a duel, he no longer has a reason to be immortal.  It turns out that he can be released from the bloodworms if he can complete a worthy goal.  Manji decides to make up for murdering one hundred cops by killing one thousand criminals.  But he believes he must have proof of evil before he kills someone, otherwise he'll just be adding more stains to his soul….
This 1990s seinen manga series (originally titled Mugen no Juunin "Inhabitant of Infinity") is set in the Edo period of Japanese history, but uses deliberate anachronisms to indicate that historical accuracy is not to be found here.  The creator states in an interview contained in this volume that he was trying for a "punk" sensibility.
After the introductory chapter, the story begins to focus on the other protagonist, a young woman named Rin.  She is seeking revenge on a man named Anotsu who murdered her father (in revenge for his grandfather's offense against Anotsu's grandfather) and had her mother raped before carrying the woman off.  The problem is that Anotsu is the leader of the powerful Itto-Ryu gang, renegade warriors who are out to destroy all other schools of weapon use.  Rin may be plucky, and can handle weapons, but she hasn't had nearly enough training to handle expert fighters.
Yaobikuni suggests that Rin hire Manji to help her.  He's dubious at first–he's been lied to before, after all, and how does he know which if any side of a revenge cycle are the evil ones?  But because she reminds him of his sister, he'll at least come along and see for himself.
As it happens, one of the Itto-Ryu members is locatable as Kuroi Sabato has been sending Rin love poems since participating in the murder of her father.  As you might guess from this inappropriate behavior, Kuroi is very wrong in the head(s), and Manji agrees to help Rin out with her revenge.
The remainder of the series is trying to track down Anotsu and getting him to stay in one place long enough for Rin to get revenge, while battling members of the Itto-Ryu and other enemies made along the way.
This omnibus edition covers the first three Japanese volumes.  The art is nifty with distinctive character designs (though the young women do tend towards same face.)  There's plenty of exciting blood-drenched fight scenes, and musing on the cycle of vengeance and where it gets you.  The dialogue is generally good, but heavy on the snark from most of the characters, which can get tiresome.
Manji wears his namesake symbol, the counter-clockwise swastika, on his back.  This is in context a Buddhist reference and has nothing to do with Nazis.
More problematic is that there's a lot of rape in this series.  While none takes place onstage in this volume, there's discussion of it in the backstory , and male characters often threaten or express a desire to rape women.  (Later on in the series, one of the recurring villains is a serial rapist.)  Also, when we see Anotsu's backstory, we learn that his grandfather was physically and emotionally abusive to both him and his cousin.
That cousin, Makie, has a story that's centered around the ill effects of sexism.  Because she has a natural talent for weapons use that is far greater than any other person in the series, Makie can't fit into the standard social roles for women.  (She tries being a prostitute for a while, and then a geisha; neither work out.)  But she can also never get the respect or rank that her skills would earn if she were a man.  To be Makie is suffering.
I'd recommend this series to fans of samurai revenge drama who enjoy some anachronism and can overlook the problematic elements.
There's an upcoming live action movie, but in the meantime, here's a trailer for the anime version.