Comic Book Review: Showcase Presents: Rip Hunter…Time Master written by Jack Miller
After the success of Jack Kirby creations The Challengers of the Unknown in 1959, DC Comics took a chance on two other quartets of non-powered adventurers in the pages of Showcase, their try-out comic.  The more successful of these was Rip Hunter's team of time travelers.  He is introduced as already having invented a Time Sphere, and with the aid of his friend Jeff Smith built two of them.  The only people he's trusted in his secret laboratory are his girlfriend Bonnie Baxter and her kid brother Corky.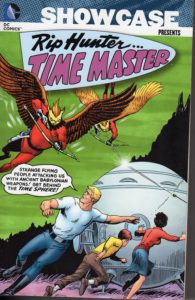 In the first Showcase appearance (#20, May 1959) Rip and Jeff take one of the spheres on its maiden voyage to the Mesozoic Era, 100 million years in the past.  Unfortunately, it turns out that two criminals stumbled on the lab some weeks before while the team was absent, realized this could be big, and planted a listening device.  The crooks force Bonnie and Corky to take them back to the same era as the first pair, planning to mine deposits of gold, silver and diamonds they know the location of in the present.
Between dinosaurs and active volcanic terrain, the six time travelers have a series of exciting escapes and daring deeds to accomplish before they can return to the present.  The tired and sore criminals are dismayed to find their hard-won sack of minerals empty–turns out you can't bring any objects from the past forward.  (This rule was eventually quietly ignored, but no one ever thought to abuse that capability thereafter.)
Much like the later Doctor Who, the second storyline went straight to aliens as Rip and his pals investigated the origin of Atlantis.  Another pair of Showcase issues followed shortly, and in 1961, Rip Hunter got his own series.  Writer Jack Miller did some research to come up with interesting time periods, but historical accuracy was clearly not a high priority.  Each issue followed a three-part structure as a mystery from the past surfaced and the crew checked it out using a Time Sphere.  Often complications would arise due to the never-stated but obvious rule that they cannot change the past; attempts to do so would fail, meaning the team has to come up with a new plan.
Characterization is thin; all four main characters are brave and adventurous.  Rip is the main history expert, and a very good shot; as the Comics Code prevented him from killing humans, he would use trick shots to bring down awnings and such.  Jeff appears to be the mechanic; he's the one who does the repairs on the Time Spheres and is slightly more muscular looking than Rip.  Bonnie and Corky appear to have no special skills beyond being backup sphere pilots.  Bonnie is a bit nervous at times, and Corky knows less history than the others, so is the recipient of infodumps.  Guest characters have just enough personality to fulfill their plot purposes.
Aliens and hidden civilizations are rife in these stories, and monsters appear frequently.  Magic is sometimes mentioned but almost always turns out to be fake or actually alien technology.
There are several art teams in the early going, the most notable of which features Joe Kubert.  Eventually it settled down to William Ely, who is decent enough, but perhaps could scale back the worry lines on some of the characters.
My favorite of the stories is their battle against the gods of Mount Olympus, which features Jeff being transformed into a griffin!
Later versions of Rip Hunter have shed the rest of his team; Legends of Tomorrow fans will likely find this early Rip nearly unrecognizable.
Recommended primarily to fans of more straightforward time travel stories as there's seldom the creative abuses of the concept that have become common in literature since.