Book Review: A Shadow Bright and Burning by Jessica Cluess
Eleven years ago, Great Britain was a powerful nation with a thriving magical community.  Then the Ancients were summoned, seven supernatural beings who are hostile to human life as we know it.  Since then, the British have been at war with these occupying horrors, and quite frankly losing.  At the start of the war, orphan girl Henrietta Howel was dumped by her aunt at a dismal school where she is now a teacher, having no other place to go.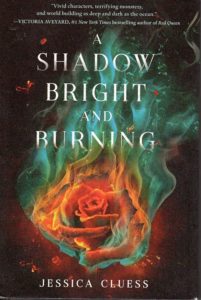 Of late, there have been a series of mysterious fires at Brimthorn School, and a sorcerer has been called in to investigate.  The culprit is Henrietta herself, who has had trouble controlling her ability to set herself aflame.  The sorcerer Agrippa realizes that Henrietta is a rare female sorcerer, and thus the Chosen One of a prophecy leading to the defeat of the Ancients.  So it's off to London for Henrietta to be trained!
However, it quickly comes to Henrietta's attention that she probably isn't the Chosen One, and the penalty for impersonating the Chosen One is dire indeed!  Can she navigate the treacherous currents of magical training and romantic interest before the  Ancients and their Familiars strike against the heart of the city?
The plot moves along at a nice clip, and there are some cool battle scenes.  In general, this book is competently written.
That said, many of the characters seem to come from Central Casting:  the heroine with a tragic backstory who believes she'll never find love, the "lower class" childhood friend with a dark secret, the seemingly cold man who in fact feels very deeply, etc.
Sexism is the real "big bad" in this story; the branch of magic that is female-dominated is the one primarily blamed for the Ancients and is now banned completely; several of the characters object entirely to the concept of female sorcerers, and young Queen Victoria is being manipulated by male advisers who don't trust her to run the country.
On the diversity front, which has become more relevant in modern young adult fiction:  one major character is described as having black skin, but this never comes up again and there is reason to believe that isn't his actual appearance.  As opposed to Henrietta's "dark" coloration from her Welsh ancestry, which is frequently mentioned.  Also, it's hinted that two of the male characters are interested in each other, but it could also be just a very close friendship.
There is some child abuse in the early chapters.  Brimthorn is not a good school.  The Ancients tend to cause gruesome deaths or deformity, which may affect some more sensitive readers–I'd say senior high on up should be fine.
This is the first in a series, and a few plot hooks are left hanging; for example, it's strongly hinted that the story of why the Ancients were summoned is still not fully revealed, despite some major pieces being revealed in this volume.  And just possibly Henrietta may not be a true orphan….
Recommended primarily to readers of YA paranormal romance.
Disclaimer:  I received this volume from Blogging for Books for the purpose of writing this review.   No other compensation was requested or offered.