Manga Review: Platinum End 1 Story by Tsugumi Ohba, Art by Takeshi Obata
Have you ever looked at the world around you and thought, "Wow, God's not doing a very good job."?  Perhaps you have even succumbed to hubris and thought you could do a better job if you, personally, had God's power.  As it turns out, God's retiring and has assigned thirteen angels to seek out candidates for the open position.  Each will be able to give their candidate special powers, and there will be a 999-day competition period, at the end of which the new God will be chosen.  Special rank angel Nasse already has someone in mind.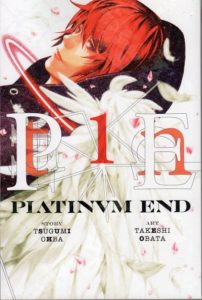 Which brings us to our protagonist, Mirai Kakehashi.  He's introduced to us by tossing himself off a building on the day he graduates from middle school.  Seems that Mirai is an orphan whose life has been made utterly miserable by his abusive relatives (yes, shades of Harry Potter) and now that he's past mandatory school age, aunt and uncle want him to get a job and sign over the paycheck in return for their "generosity."  Nasse catches Mirai before he hits the pavement.
The angel explains that she has been keeping an eye on Mirai for a while as his "guardian angel" and she is at last able to intervene to make him happy.  Nasse grants him three nifty powers; wings to fly, red arrows that will make people love him, and white arrows that kill painlessly.  Mirai isn't too sure about this, especially as Nasse suggests using these powers in ways that seem…unethical to the boy.  He does, however, wind up using the red arrows to resolve the issue of his abusive relatives.
Now that Mirai has a future again, he works hard to get into the same school as his crush, Saki.  While that's going on, Nasse explains more about the "replace God" contest, and they become aware of a God candidate who is most definitely abusing his powers.  This story doesn't really intersect with theirs, as he's quickly taken out by a third candidate, who has decided to murder his way to victory.
"Metropoliman" uses his powers to appear to be a superhero so that he can  openly hunt for the other candidates with the public on his side.  This makes Mirai worried, but the murderous "hero" isn't his top priority when a fourth candidate turns out to be going to the same high school.  A candidate who's gotten the drop on him!
This monthly manga is by the creators of Death Note and Bakuman, and was much anticipated.   The art is certainly excellent!  But large chunks of the premise seem to have been lifted from the Future Diary series, and several of the characters in these early chapters are kind of blah.  In particular, Ohba seems to struggle with the right balance of competence and initiative for female characters.  I am hoping that future chapters will improve this.
That said, Nasse has a lot of potential as an angelic creature that doesn't quite grok human morality.  Her design which makes it difficult to tell whether she's wearing clothes or just has an unusual body is also nifty.
Content issues:  In addition to frequent mentions of suicide (and one on-camera attempt) and child abuse, there's rape and female nudity in a sexual context.  While the series is aimed at high schoolers in Japan, it gets a "Mature Readers" tag in the U.S.
Primarily recommended to fans of the creators' previous series.  Consider getting the physical edition–there are some neat effects on the cover that don't come across in a scan.