Movie Review: Destroy All Monsters
It is the close of the Twentieth Century, and the United Nations has achieved two major goals.  There is now a permanent scientific base on the moon, and a way has been found to safely and humanely contain Earth's giant monsters on a remote island dubbed Kaijuland (Monsterland in the dub.)   World peace also seems to have been achieved but no one directly says so.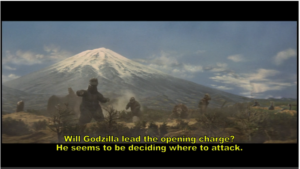 Of course, it would be a pretty dull monster movie if the status quo remained that way, so shortly after a UFO is seen lurking near the moon base, a mysterious gas cuts off all contact with Kaijuland.  Soon, the monsters that should be on the island are spotted in capital cities around the world, destroying property and causing death…except in Tokyo.  That arouses suspicion since Japan is the closest large land mass near Kaijuland, and all the monsters normally gravitate there.
Captain Katsuo Yamabe and the crew of the spaceship Moonlight SY-3 are assigned to investigate.  They are shocked to discover that the staff of Monsterland (including Captain Yamabe's sweetheart Kyoko Manabe) are now cheerfully directing the monsters to attack using previously unknown technology.  It turns out that aliens called Kilaaks are responsible.  The Kilaak have decided to colonize Earth and they're not keen on human civilization.
Most of the movie is Captain Yamabe and his allies investigating the Kilaak threat and attempting to find some way of breaking their mind control over humans and monsters, with sporadic monster attacks to spice things up.  But in the final reel, we are treated to the kaiju battle action we've been waiting for, as Godzilla and the other Earth monsters go up against the Kilaak and space monster King Ghidorah.
This 1968 film is considered one of the weaker entries in the Godzilla franchise, as the writers had largely run out of good ideas, and the monsters weren't really scary anymore.  The plot is thin and the acting minimal.  But it's got that cool monster battle at the end, with Minilla actually being useful for a moment.  I also appreciate the optimistic future in which humanity lives and lets live with its giant monsters.
As of this writing, both subbed and dubbed versions are up on Crunchyroll, and recommended to kaiju fans as a pleasant popcorn movie.