Anime Review: Erased (Japanese title Boku Dake ga Inai Machi "The Town Without Me" or "The Town Where Only I Am Missing")
The year is 2006, and Jun "Yuuki" Shiratori is on Death Row for the abduction and murder of three children back in 1988.  Very few people still believe that he's innocent, considering the substantial circumstantial evidence against him.  One of them is Satoru Fujinuma, a struggling manga artist and part-time pizza delivery driver.   Satoru feels somewhat responsible for failing to save the other children (including one of his personal friends) and not convincing the adults that the simpleminded Yuuki was not the killer.  As a result, Satoru has had difficulty moving forward in life.  But he's about to get another chance.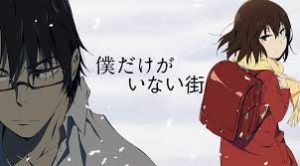 It turns out that Satoru has been blessed/cursed with a power he calls "Revival."  When a tragedy strikes that he could avert, Satoru's timeline reruns over and over until he fixes the problem.  Unfortunately, this usually works out badly for Satoru himself, so he is made even more frustrated by it.
Satoru's mother drops by for a visit, and witnesses an event that sparks memories–for the first time she is able to realize that Satoru was right back then, and makes the connection to who the killer really was.  Except that the killer recognized her too, and murders her, framing Satoru for it.  Revival kicks in–
–And Satoru wakes up as his eleven year old self in 1988, before the murders began.  He determines that he needs to stop the killings to change the future, starting with saving the pretty but aloof Kayo Hinazuki, one of his classmates.  But how?
This 2016 anime series was based on a manga by Kei Sanbe, condensing 44 chapters into 12 episodes.  A couple of subplots were axed, the endgame is speeded up, and the events reworked a bit so that each anime episode save the last ends on a cliffhanger.
Satoru starts the series as an unenthusiastic person who worries that he's a hollow shell; he helps people with his Revival power not out of any interest in helping them, but because it's the right thing to do.  Over the course of the plotline, as he meets or re-meets people who genuinely wish him well and assist him, Satoru lightens up and learns that he doesn't have to shoulder burdens alone.
This is important when it comes to Kayo; her situation is more complex than Satoru initially realizes, and working alone he can only delay her death, not stop it.  This results in a reverse Revival, as he must return to the future to gather more clues.
There's some use of cultural allusion.  A reproduction of The Last Supper painting gives some quick foreshadowing, and the Ryuunosuke Akutagawa story "The Spider's Thread" is something that the killer uses as a metaphor.  As a child, Satoru was heavily into the superhero shows of the time, and some real ones are mentioned.
Content warnings:  Child abuse is an important part of the 1988 section of the plotline, and domestic violence more generally.  Yuuki is framed as a pedophile by the killer swapping out his porn collection (we see some scantily-clad women on magazine covers.)  And of course the serial killing.  I'd rate this for senior high students and up.
Recommended for those looking for a thriller with fantasy elements and a bit of comedy (child Satoru with adult Satoru's memories often makes slips of the tongue.)