Book Review: The Physics of Everyday Things by James Kakalios
Disclaimer:  I received an uncorrected proof of this book for the purpose of writing this review.   No other compensation was offered or requested.  The final product,  due out May 2017, will have some changes, including a full index.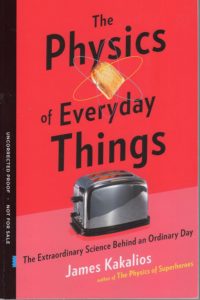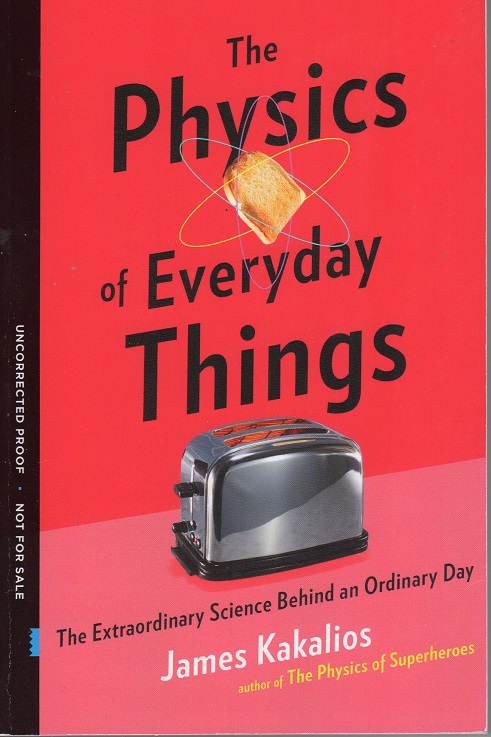 Today is no ordinary day.  While it may seem normal as you wake up and have breakfast, getting ready for a doctor's appointment and a work presentation, today will actually be extraordinary.  For you will be accompanied at every step by Professor James Kakalios, author of The Physics of Superheroes, who will explain the physics behind the many objects you interact with every day.
In the tradition of Hugo Gernsback's seminal novel Ralph 124C 41+, the narrative frame takes "You" (a prosperous business person with a late-model car and many of the latest gadgets) through a typical day in 2017 as an excuse to discuss the physics involved in such devices as digital timers, magnetic resonance imaging and flat panel televisions.  While not as thrilling as a superhero saga might be, the day is eventful enough to keep the story moving.  (And relatable for business people who might invest in scientific research.)
The book mostly skips the mathematical formulas that are the bane of non-scientists trying to follow physics discussions, but a basic understanding of high school level physics principles will make this book easier to understand.  There are figures to illustrate how some of the devices work, as well as both footnotes and end-notes.  T he finished product will also have an index.
Overall, the superheroes book was more fun, but is now outdated.  I recommend this volume primarily to business people and those who want to know a bit more about physics as it applies to real life.  (Well, except for a last discussion on flying cars and the physics of why we still don't have them.)