Book Review: Doctor Dead: A Percy & Quincey Adventure by Tyler Tork
Disclaimer:  I received a free download of this book to facilitate this review.  No other compensation was requested or offered.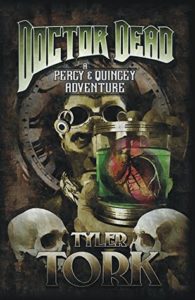 Percival "Percy" Drew and his cousin Quincey Harker are enjoying an afternoon at San Francisco's waterfront in 1904.  Until, that is, the young fellows are kidnapped.  It seems that the mad scientist Dr. Benoit believes the albinistic Quincey has a rare blood type that will enhance the endurance of zombis.   The boys must find a way to escape before Quincey is drained dry, or they are themselves turned into the living dead!
This young adult novel is set on an alternate Earth where some of Victorian fantastic literature is real, though often in a different form than the original stories.  (Dracula turns out to have been heavily fictionalized; among other things, Wilhemina Harker is not nearly as decent a person as in the novel.)  It's fun looking for all the shout-outs.
The book is divided into four adventures, each building on the last.  The boys do escape Dr. Benoit in the first segment, but their elders make poor decisions that come back to bite everyone when Benoit turns out to have taken precautions in the event of being dosed with his own serum.
Most of the story takes place from the viewpoint of thirteen-year-old Percy, with only short sections from the viewpoints of Quincey and Native American (called "Indian" in-story) girl Mary when Percy's not available to narrate.  Percy is very  bright and something of a mechanical genius, while fifteen-year-old Quincey is more interested in the medical field.
Mr. Tork has done his research on such topics as the manufacture of soft drinks in 1904, so it was a bit of a shock when one of the characters is said to have read H.P. Lovecraft, who would not be published for another decade.
There's some period racism and sexism; thankfully the boys are only a bit ignorant and not malicious.  It feels at times that the book has trouble fitting in the YA category–a brothel is an important location in the plot, yet no prostitutes are ever "on screen", nor indeed is it ever explained what goes on in a brothel.
Things become more difficult for our young heroes when a broken time machine comes into the plot; at least one of the adults who are nominally their allies cannot be trusted not to abuse such a device, so they have to keep it a secret from as many people as possible.  This prevents the boys from getting reliable help at various junctures.
There are some quirky supporting characters, and plenty of action to keep the plot moving quickly.  While no sequel is available, there are hooks for an expedition to the Galapagos Islands and a search for lost treasure, so if sales on this book pick up, they may yet be published.
Recommended primarily to teenage boys who've read some of the books this volume shouts out to.